Dr. Heiner Lang appointed to Bosch Rexroth AG Executive Board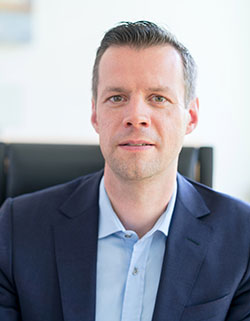 Effective August 1, 2019, Dr. Heiner Lang will join the Executive Board of Bosch Rexroth AG, Lohr a. Main, Germany. Once on the board, he will take over responsibility for engineering, which currently lies with Rolf Najork, chairman of the executive board of Bosch Rexroth AG and member of the board of management of Robert Bosch GmbH, responsible for the industrial technology business sector.
In his new role, Lang will also be responsible for the three Bosch Rexroth business units which constitute the factory automation division (automation and electrification solutions, assembly technology, linear motion technology). In addition, he will retain his role as general president of the automation and electrification solutions business unit.
By expanding the executive board, Bosch Rexroth is responding to the increasing importance of the factory automation business area as well as focusing on topics of the future, in terms of software-based, automated and connected solutions. "Bolstering our cross-divisional capacity for innovation is truly on Bosch Rexroth's agenda, and we are making that clear right now by strengthening the board with the appointment of Heiner Lang," emphasized Najork.
Along with his other responsibilities, having Lang appointed to the executive board will strengthen Bosch Rexroth's position in making the Factory of the Future a true reality.
Lang Joined Bosch Rexroth in 2017
Heiner Lang became general president of the automation and electrification solutions business unit at Bosch Rexroth in July 2017. This business unit boasts a wide range of drive and control technologies for factory automation and provides Industry 4.0 solutions for the Factory of the Future. Before this new role, Lang started his career at Bosch Rexroth as the head of technology for the industrial applications business unit in January 2017. Prior to that, he was president of Europe and Asia at MAG IAS GmbH. Heiner Lang studied mechanical engineering and obtained a Ph.D. from the University of Karlsruhe.
About Bosch Rexroth:
As one of the world's leading suppliers of drive and control technologies, Bosch Rexroth ensures efficient, powerful and safe movement in machines and systems of any size. The company bundles global application experience in the market segments of Mobile Applications, Machinery Applications and Engineering, and Factory Automation. With its intelligent components, customized system solutions and services, Bosch Rexroth is creating the necessary environment for fully connected applications. Bosch Rexroth offers its customers hydraulics, electric drive and control technology, gear technology and linear motion and assembly technology, including software and interfaces to the Internet of Things. With locations in over 80 countries, more than 32,300 associates generated sales revenue of roughly 6.2 billion euros ($7.3 billion) in 2018.