Doug Burnside Promoted to Director, Motoman Customer Care
Day

ton, Ohio — Motoman is pleased to announce the promotion of Doug Burnside to the position of Director, Customer Care. In addition to managing Motoman's Customer Care Center (24-hour technical support call center and web site) and Robot Repair Center, he now has responsibility for all U.S. Aftermarket Sales. Since joining Motoman in 2005, Burnside has been a key leader in the Customer Satisfaction Group (CSG)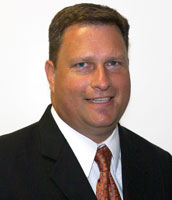 management team that has contributed to Motoman's growth by helping to launch its Courier Repair Service, Customer Care Center, and Pre-Owned Certified Robot program. Prior to joining Motoman in 2005, Burnside managed operations, sales and support at several software and telecommunications companies. He holds a Bachelor of Business Administration degree in Finance from Western Michigan University. Burnside and his family reside in Woodstock, Ohio.

Motoman provides robots and complete robotic automation for virtually every application and industry. Founded in 1989, Motoman has continually gained market share and is now one of the largest robotic solution providers in North and South America with more than 28,000 robotic installations. Motoman's parent, Yaskawa Electric Corporation, is the world's leading robot manufacturer with an installed base of nearly 200,000 robots.

For more information on Motoman products and services, visit the corporate web site at www.motoman.com, call 937.847.6200 or write to Motoman Inc., 805 Liberty Lane, West Carrollton, Ohio, USA 45449.