Digital Driver for FLEXPOINT Modules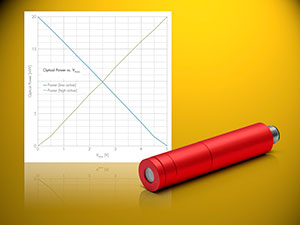 USB-enabled Microcontrollers from LASER COMPONENTS
Bedford, NH - LASER COMPONENTS USA, specialized provider of components and services in the laser and optoelectronics industry, now offers a digital laser driver for driving and monitoring selected FLEXPOINT laser modules. The microcontroller is connected to the module via USB or RS-232. For example, important operational settings such as output power, trigger, pulsation, and modulation can be programmed by the user according to his own requirements.
Furthermore, parameters such as the operating time of the system, the temperature in the module, or the laser diode current can also be monitored via the controller. This information allows the user to draw conclusions, for example, about the aging process. Downtimes can then be significantly reduced by predictive maintenance.
The microcontroller also guarantees stable output power and particularly good linearity between the control voltage and the analog output power.
About LASER COMPONENTS
LASER COMPONENTS specializes in the development, manufacture, and sale of components and services in the laser and optoelectronics industry. At LASER COMPONENTS, we have been serving customers since 1982 with sales branches in five different countries. We have been producing in house since 1986 with production facilities in Germany, Canada, and the United States. In-house production makes up approximately half of our sales revenue. A family-run business, we have more than 220 employees worldwide.