DFL460 Curved Linear Light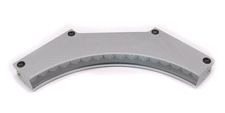 The all new DFL460 light's curved design provides even lighting over rounded surfaces and gives the user modular flexibility to design multiple arrays. Additional lights can be daisy chained together to form an arch or full 460mm diameter dark field array. The light features the same built in SMART Driver technology pioneered by Smart Vision Lights with NPN/PNP strobe, remote analog intensity control, and a manual potentiometer for brightness adjustment. Standard line lens and optional wide lens light distribution.

Available in red, white, blue, green, cyan, infrared, and ultraviolet (UV is wide angle only).

For more information click here.

Built in SMART driver - No External Driver Needed
Ability to wrap light around curved surfaces
Connect up to 4 lights together for multiple configuations
Continuous operation or strobe mode
PNP and NPN Strobe input
Analog intensity via 0-10VDC signal
Manual Potentiometer