Development of Shutterless Thermal Camera Module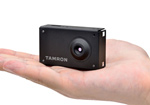 Saitama, Japan - Tamron Co., Ltd. (President & CEO: Shiro Ajisaka): A leading manufacturer of optics for diverse applications, announces the development of a thermal camera module.
Classic thermal camera modules need to acquire reference data by actuating a mechanical shutter approximately every 2 to 3 minutes to achieve accurate temperature measurements and stable thermal images.
However, when the shutter closes some noise is generated by the shutter and the video stops during that time. Furthermore, mechanical shutters are naturally prone to failure during long-term operation. Now Tamron has developed a "Shutterless Thermal Camera Module" by adopting an amorphous silicon thermal sensor that has excellent temperature reproducibility during temperature changes.

Product Features
Thermal camera modules can capture images and measure temperature in complete darkness. This enables "Observation" of patients and allows for nursing care without disturbing sleep, "Human Detection" without requiring any illumination for security applications, "Abnormal Temperature Detection" for equipment monitoring, and many further applications. Thanks to the shutterless design, all applications benefit from the completely silent operation and continuous video recording of the camera module.
Product Specification*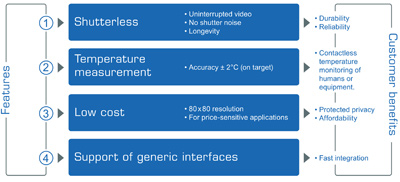 Pixels: 80 x 80 pixels of 34 μm pitch
Frame Rate: 8.8 fps(Maximum)
Video Output: UART/SPI
Output Format: Greyscale, Pseudo-color, temperature data
Correction Method: Shutterless correction
Temperature Accuracy: ± 2°C(on target)
Control Interface: UART/I2C
Dimensions (W x H x D): 64.2 x 38.6 x 17.2 mm
* Specifications, appearance, functionality, etc. are subject to change without prior notice.
International trading of our products complies with the laws and regulations of Japanese foreign trade policy and the country which produces detectors.
About Tamron
"New Eyes for Industry" is Tamron's philosophy. This creed is consistent with the company's position as a manufacturer of a wide range of original optical products, from interchangeable lenses for SLR cameras to various optical devices for both the general consumer and OEM. Tamron makes optical products that contribute to a range of different industries and will continue to devote its rich creativity and leading-edge technical prowess to various industrial fields. Furthermore, Tamron is fully aware of its responsibility to the environment and aspires to help preserve the natural environment in all of its business activities.
Company Contact
Andreas Klein
Tel: +49 (221) 97 03 25 74