Develop Custom Robotic Picking Applications with MotoPick Software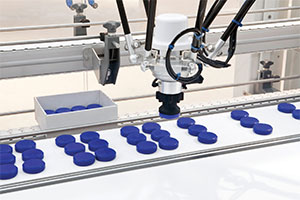 Dayton, OH — MotoPick™ is a user-friendly, highly advanced software package that allows for the development of machine vision-based, high-speed picking solutions. This powerful software can synchronize multiple robots equipped with vision to pick fast moving product off a conveyor and place it on an outfeed device, tray or box in an organized arrangement. MotoPick provides building blocks to create optimal solutions for up to ten robots and eleven conveyors. It also offers pattern-based distribution of product and dynamic load balancing among multiple robots.
MotoPick provides precise control and coordination of infeed and outfeed conveyors. If the advancement of either the infeed or outfeed conveyor falls behind, the speed of the opposite conveyor can be automatically decreased and even stopped until the operation is equalized.
Multiple cameras are available based on conveyor width, workpiece size, target accuracy, production volume and conveyor speed. MotoPick is designed to function with minimal additional hardware requirements.
About Yaskawa Motoman
Founded in 1989, the Motoman Robotics Division of Yaskawa America, Inc. is a leading robotics company in the Americas. With over 300,000 Motoman® robots installed globally, Yaskawa provides automation products and solutions for virtually every industry and robotic application; including arc welding, assembly, coating, dispensing, material handling, material cutting, material removal, packaging, palletizing and spot welding.