Despite difficult environment - FRABA grows 6.2% worldwide in 2019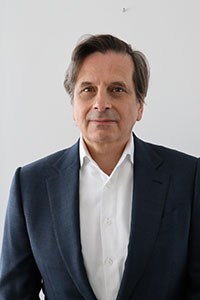 FRABA goes into the "Year of Corona" with innovative products and a digital-virtual workspace
Hamilton/NJ – Against a backdrop of trade disputes and structural problems in key industries like machine building and automotive, the international FRABA Group recorded healthy worldwide growth of 6.2% in 2019 (year-end December 31). Global sales were just over 37 million Euros, while the staff levels in Europe, Asia and the USA remained largely constant at 230 employees. "The increase in profitability was even stronger than the boost in sales, so we were again able to intensify our investments in research and new product development," says majority shareholder and CEO Christian Leeser. FRABA spends a good 10% of group sales annually on its global R&D center at Aachen, Germany, which is dedicated to sensor innovations.
Growth in 2019 came primarily from two innovative products for the Group's POSITAL brand (motion control and position sensors). New hollow-shaft kit encoders, which feature self-powered, battery-free multiturn capabilities, set the pace in integrated motor feedback and enjoyed an extremely positive reception from robot and cobot manufacturers. Meanwhile, the acceleration-compensated Dynamic TILTIX series of inclinometers have experienced strong demand. Thanks to a dual measuring system, computing power and an algorithm developed in Aachen, the new TILTIX sensors deliver low-noise position readings, even under high levels of acceleration and vibration. They ensure accuracy, increased safety and reduced operating costs for mobile machines, excavators, cranes and heavy equipment.
FRABA's modular, scalable manufacturing system focuses on 'mass customization' and 'lot-size-one', while its portfolio features innovative products such as the new hollow-shaft kits for 'Robotics 2.0' and the Dynamic TILTIX sensors. All of this positions FRABA well for the future. "Our new 22 mm kit encoders join their very successful 36 mm 'big brothers' in the growing area of integrated motor feedback," explains Leeser. "It is the world's smallest kit encoder with self-powered multiturn capability. Presented as a prototype at the SPS show in Germany at the end of 2019, we plan to ramp up serial production in the second half of 2020." Especially in the field of small drives, FRABA's CEO sees a bright future for the 22 mm devices – if there were not the challenges and uncertainty caused by the Corona virus.
"Covid-19 and the pandemic make reliable forecasts of mid-term market developments extremely difficult," says Leeser. Yet, the volume of orders in the first quarter even grew by 8 % compared to the same reporting period last year. The FRABA CEO is convinced that the broad positioning of POSITAL products in future-proof segments, such as medical and pharmaceutical equipment, the food industry and the logistics sector, proved to be a significant asset. The important thing is that so far all supply chains have remained intact and production in the digital factory, which continued to run during the lockdown, has been corona-proofed. "Our biggest plus has been that we established ourselves as a 'different' company a long time ago - with a flat hierarchy, completely digitized processes, a flexible office concept that enables working from home, and an 'open book' policy encouraging decision making by all our employees," says Leeser. "That's why the transformation to the 'new normal' of working in time of Covid-19 was relatively easy for us."
"What lies ahead is difficult to foresee," emphasizes Leeser in his latest Video News. "We have to prepare ourselves - as a team - for everything, hoping for a short V-shaped recession, but also planning for the possibility of a longer U-shaped downturn. We will master either outcome! "
About FRABA
The FRABA Group is headquartered in Heerlen/The Netherlands. Its history dates back to 1918, when the company's predecessor, Franz Baumgartner Elektrische Apparate GmbH, was established in Cologne, Germany to manufacture relays. Since then, the company has played a trendsetting role in the development of industrial sensor products for motion control and safety sensors for industrial doors and other moving equipment. FRABA has a global reach with subsidiaries in Europe, North America (based in Hamilton, NJ) and Asia – and sales and distribution partners around the world.