DENSO XR-Series Compact Gantry Robots Win Japan Robot Award
LON

G BEACH, Calif. - DENSO Robotics announced that Japan's Ministry of Economy, Trade and Industry (METI) has awarded the DENSO XR-Series four-axis, compact gantry robots a prestigious "Robot Award 2008," in the category of industrial robots. METI began the award competition in 2006 in order to promote robot research and development.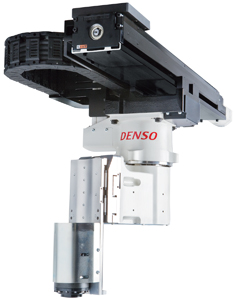 The XR-Series robots, which are the latest in DENSO's wide range of small assembly robots, feature a ceiling-mounted, flexible SCARA robot combined with a long-stroke Cartesian. As a result of their highly efficient, integrated design, the XR-Series robots use up to 40 percent less valuable factory floor space than conventional SCARA robots. In addition, they can operate in many applications without the need of a conveyor, saving up to 20 percent in capital-equipment costs.

The high-speed, high-precision robots have a reach of 200 mm to 300 mm and an x-axis stroke of 850 mm to 1,660 mm, with a cycle time of 0.53 seconds, repeatability of ±0.015 mm and payload capacity of 3 kg.

DENSO, a leading global supplier of advanced technology, systems and components, as well as the world's largest user of small assembly robots, developed the XR Series in response to its own internal manufacturing needs. The company employs the robots in assembly, material-handling and parts-feeding applications.

"The XR-Series robots are an innovative way of increasing manufacturing efficiency while saving space at the same time," said Peter Cavallo, Robotics sales manager, DENSO Sales California. "DENSO has been a leading player in designing and developing small industrial robots since the 1960s, and we are very proud of the recognition this award has given us."

For more information, visit www.densorobotics.com/products_4axis_xr.php.