DENSO Robotics Joins Rockwell Automation Encompass Program, Introduces Add-On Instructions for Rockwell Automation PLCs and PACs
rong>LONG BEACH, Calif. — DENSO Robotics announced that it will participate as an Encompass™ Product Partner in the Rockwell Automation PartnerNetwork™. Through Encompass Product Partners, customers can quickly locate complementary products that best solve any application challenges. These products are critical components or connectivity solutions that extend and enhance Rockwell Automation installations.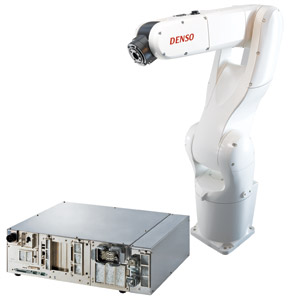 Along with the partnership, DENSO has introduced new Add-On Instructions (AOIs) for its RC7 robot controller, which allow DENSO robots to be controlled and programmed directly from a Rockwell Automation CompactLogix™ PLC or ControlLogix® PAC via EtherNet/IP. The AOIs enable even new robotics users to easily install, program, operate and support robot applications using the familiar Rockwell Automation RSLogix™ interface.

"We are proud to be associated with such an outstanding company as Rockwell Automation," said Peter Cavallo, robotics sales manager, DENSO Sales California. "We are also looking forward to working with more Rockwell Automation customers. Our new AOIs make it even easier for them to use our robots."

About Rockwell Automation
Rockwell Automation, Inc. (NYSE: ROK), the world's largest company dedicated to industrial automation and information, makes its customers more productive and the world more sustainable. Headquartered in Milwaukee, Wis., Rockwell Automation employs about 20,000 people serving customers in more than 80 countries.

About the Rockwell Automation PartnerNetwork™
DENSO Robotics is part of the Rockwell Automation PartnerNetwork™ program, which includes business enterprise, sales and solutions, and product and technology partners. Through collaboration with Rockwell Automation, DENSO Robotics helps its customers improve time to market, lower total cost of ownership, better manage assets and lower manufacturing business risk. For more information, visit www.rockwellautomation.com/partners/.

About DENSO
DENSO is the world's largest user of small assembly robots, with more than 16,000 DENSO robots designed and used in its own manufacturing facilities. More than 60,000 DENSO robots are used in other companies worldwide. DENSO Robotics offers a complete line of robots, controllers and software covering a wide range of applications. For more information, visit www.densorobotics.com.

DENSO Corporation, headquartered in Kariya, Aichi prefecture, Japan, is a leading global automotive supplier of advanced technology, systems and components in the areas of thermal, powertrain control, electric, electronics and information and safety. Its customers include all the world's major carmakers. Worldwide, the company has more than 200 subsidiaries and affiliates in 35 countries and regions (including Japan) and employs approximately 120,000 people. Consolidated global sales for the fiscal year ending March 31, 2011, totaled US$37.7 billion. Last fiscal year, DENSO spent 9.3 percent of its global consolidated sales on research and development. DENSO common stock is traded on the Tokyo and Nagoya stock exchanges.

In North America, DENSO employs 13,000 people with consolidated sales totaling US$6.4 billion for the fiscal year ended March 31, 2011.

Encompass™ Product Partner, Rockwell Automation PartnerNetwork™, CompactLogix™, ControlLogix® and RSLogix™ are trademarks of Rockwell Automation, Inc.