DENSO Robotics Introduces New EtherNet/IP Connectivity
Simplifies Robot-PLC Connections, Reduces Costs

LONG BEACH, Calif. — DENSO's new EtherNet/IP option for its RC7 robot controller allows a single cable to connect the robot controller with a programmable logic controller (PLC), simplifying integration and reducing the cost of robot setup and hardware. The EtherNet/IP cable quickly and easily plugs into a dedicated port on both the robot controller and PLC, eliminating the need to hand-wire and route parallel I/O terminals, which can amount to dozens or even hundreds for a single robot.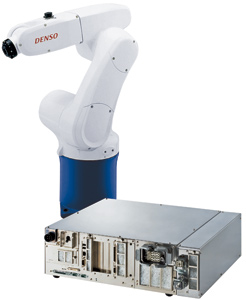 "Our new EtherNet/IP capability is part of our company's philosophy of continually improving our products and making them easier for our customers to use," said Peter Cavallo, robotics sales manager, DENSO Sales California. "Especially when multiple robots are involved, EtherNet/IP can drastically cut setup time and hardware costs. Having only one cable per robot also makes integration easier."
DENSO is the world's largest user of small assembly robots, with more than 17,000 DENSO robots designed and used in its own manufacturing facilities. More than 42,000 DENSO robots are used in other companies. DENSO Robotics offers a complete line of robots, controllers and software covering a wide range of applications. For more information, visit www.densorobotics.com.
DENSO Corporation, headquartered in Kariya, Aichi prefecture, Japan, is a leading global supplier of advanced technology, systems and components. Worldwide, the company employs approximately 120,000 people in 32 countries and regions, including Japan. Consolidated global sales for the fiscal year ended March 31, 2009 totaled US$32 billion. DENSO common stock is traded on the Tokyo, Osaka and Nagoya stock exchanges in Japan. For more information, go to www.globaldenso.com, or visit our media website at www.densomediacenter.com.
In the Americas, DENSO employs more than 16,000 people with consolidated sales totaling US$5.7 billion for the fiscal year ended March 31, 2009. For more information, go to www.densomedia-na.com.
Contact:
Peter Cavallo
DENSO Robotics
(310) 991-7343