DENSO Introduces New RC8 Industrial Robot Controller — World's Smallest in Its Class
Communicates with wide variety of devices, complies with global safety standards

LONG BEACH, Calif. — DENSO announced that it has introduced the world's most compact industrial robot controller in the 3 kW output class. The new DENSO RC8 controller is 60 percent smaller and 45 percent lighter than the company's previous model. It has a footprint of only 12 x 18 inches and a height of only 3.75 inches, saving valuable factory floor space and facilitating integration.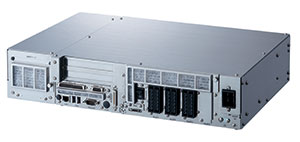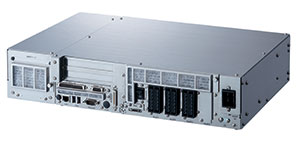 The powerful, high-speed RC8 controller can communicate with over 100 different types of devices using DENSO's ORiN™ open-resource interface networking system. Its wide range of communications interfaces includes 100 Base-T Ethernet, mini/hand I/O, RS-232C and USB as standard, plus CC-Link, DeviceNet, EtherCAT, EtherNet/IP, parallel discrete I/O, Profibus and Profinet as optional. A Microsoft Windows-based graphical user interface reduces robot setup time. ISO and UL safety compliance allows global deployment.

Optional accessories include a teaching pendant with a large, 7.5-inch color touchscreen, a mini pendant with a 128 x 64 pixel LCD display, up to two additional axes and conveyor tracking. DENSO's Wincaps III™ 3-D simulation software allows offline programming and remote monitoring of robot operation.

"The small size of our robot controller has always been one of its strong points," said Peter Cavallo, robotics sales manager, DENSO Sales California. "Now our new RC8 controller gives our customers higher performance and greater flexibility in an even more compact package."

More information about the new RC8 industrial robot controller is available on the DENSO Robotics website at www.densorobotics.com/products/rc8-controller.

DENSO is the world's largest user of small assembly robots, with more than 16,000 DENSO robots designed and used in its own manufacturing facilities. More than 60,000 DENSO robots are used in other companies worldwide.

DENSO offers a wide range of high-speed, four-, five- and six-axis industrial robots, with payloads up to 20 kg, reaches from 350 to 1,300 mm and repeatability to within ±0.015 mm. DENSO's compact, space-saving design facilitates integration, while a high maximum moment of inertia allows a wide variety of end effectors and applications. Standard, dust- and mistproof, dust- and waterproof, cleanroom and aseptic models are available. Programming software, controllers and teaching pendants are also offered. ANSI and CE compliance enables global deployment. UL-listed models are available for the U.S. and Canada. For more information, visit www.densorobotics.com.

DENSO Corporation, headquartered in Kariya, Aichi prefecture, Japan, is a leading global automotive supplier of advanced technology, systems and components in the areas of thermal, powertrain control, electric, electronics and information and safety. Its customers include all the world's major carmakers. Worldwide, the company has more than 200 subsidiaries and affiliates in 35 countries and regions (including Japan) and employs more than 120,000 people. Consolidated global sales for the fiscal year ending March 31, 2012, totaled US$38.4 billion. Last fiscal year, DENSO spent 9.5 percent of its global consolidated sales on research and development. DENSO common stock is traded on the Tokyo and Nagoya stock exchanges.

In North America, DENSO employs more than 14,000 people with consolidated sales totaling US$6.2 billion for the fiscal year ending March 31, 2012.

Windows is a registered trademark of Microsoft Corporation in the United States and other countries.