DENSO Introduces New Aseptic Robots
rong>Ultracompact, hydrogen peroxide-washable design

LONG BEACH, Calif. – The new DENSO VP-G2 six-axis articulated aseptic robots offer Class 100 cleanroom performance in a space-saving, ultracompact design. Anodized aluminum coverings, a protec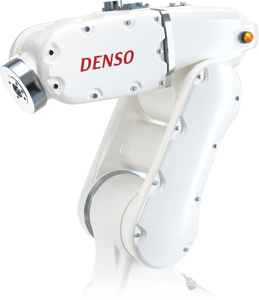 tive outer coating and specially sealed joints allow the robots to be safely cleaned with hydrogen peroxide, enabling them to be used in applications where biocontamination control is required, such as those in the medical and pharmaceutical industries. Typical application areas include assembly, dispensing, inspection, machine tending, material handling, packaging and test handling.

The VP-G2 robots have a reach of 432 mm, yet a small footprint of only 200 mm in diameter. Other features include a payload capacity of 2 kg, repeatability of ±0.02 mm and standard cycle time of 0.99 sec. The robots' highly efficient motors use a combined maximum of only 300 W of power, resulting in significant energy savings.

As with other DENSO robots, the VP-G2 robots feature concealed electrical wiring and air lines, to avoid interference with other equipment and facilitate integration. In addition, the VP-G2 robots' control cables can be optionally mounted on the bottom of the robot base instead of on the side, removing them from the cleanroom environment. Models are available with either ANSI and CE or UL safety compliance, allowing global deployment.

"We developed our new VP-G2 aseptic robots in response to the continued increase of automation we have been seeing in biocontamination-control applications in the medical, pharmaceutical and other industries," said Peter Cavallo, robotics sales manager, DENSO Sales California. "Their utracompact design will be especially welcome in cleanrooms and laboratories, where saving valuable floor space is often an important factor."

Complete product specifications and downloadable CAD files are available on the DENSO Robotics Web site at www.densorobotics.com/products_vp_5_6axis.php.

DENSO is the world's largest user of small assembly robots, with more than 16,000 DENSO robots designed and used in its own manufacturing facilities. More than 60,000 DENSO robots are used in other companies. DENSO Robotics offers a complete line of robots, controllers and software covering a wide range of applications. For more information, visit the DENSO Robotics Web site at www.densorobotics.com.

DENSO Corporation, headquartered in Kariya, Aichi prefecture, Japan, is a leading global automotive supplier of advanced technology, systems and components in the areas of thermal, powertrain control, electric, electronics and information and safety. Its customers include all the world's major carmakers. Worldwide, the company has more than 200 subsidiaries and affiliates in 34 countries and regions (including Japan) and employs approximately 120,000 people. Consolidated global sales for the fiscal year ending March 31, 2010, totaled US$32.0 billion. Last fiscal year, DENSO spent 9.1 percent of its global consolidated sales on research and development. DENSO common stock is traded on the Tokyo and Nagoya stock exchanges.

In the Americas, DENSO employs more than 16,000 people with consolidated sales totaling US$5.7 billion for the fiscal year ending March 31, 2010.