DENSO Introduces New 6-Axis Robots—World's Fastest, Most Precise in Class
The

new DENSO VS-Series six-axis articulated robots offer the world's highest speed and precision for robots of their class, with cycle times from 0.37 to 0.33 sec. and repeatability from ±0.03 to ±0.02 mm. Reaches are from 500 to 900 mm and payload capacities from 4 to 7 kg.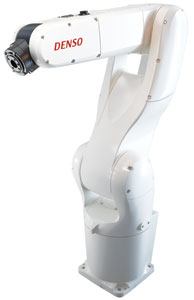 The VS robots are also extremely flexible, with an even more compact design than previous models, including ultraslim arms to facilitate integration and a new optional bottom-side cable connection that saves valuable floor space. The robots can be mounted on the floor, ceiling or wall with no special hardware needed.

A new internal wiring option allows users to easily connect Gigabit Ethernet devices and servo grippers directly to the robot flange, preventing cables from becoming tangled or interfering with peripheral equipment.

In addition to their standard IP40 protection level, a new IP67 dust- and splashproof protection option allows the robots to resist cutting chips and high-pressure washing, extending their application range. ANSI and CE safety compliance allows global deployment.

Typical applications include assembly, dispensing, inspection, machining, machine tending, material handling, material removal, packaging, pick and place, surface finishing and test handling.

"Our VS-Series robots have always been well-known in the industry for their class-leading performance," said Peter Cavallo, robotics sales manager, DENSO Sales California. "Now our new VS-Series models raise the performance bar even higher, with faster speeds, a more compact design and greater flexibility."

More information about the new VS-Series robots is available on the DENSO Robotics website at www.densorobotics.com/products-vs-6axis-new.php.

DENSO is the world's largest user of small assembly robots, with more than 16,000 DENSO robots designed and used in its own manufacturing facilities. More than 60,000 DENSO robots are used in other companies worldwide. DENSO Robotics offers a complete line of robots, controllers and software covering a wide range of applications.

DENSO Corporation, headquartered in Kariya, Aichi prefecture, Japan, is a leading global automotive supplier of advanced technology, systems and components in the areas of thermal, powertrain control, electric, electronics and information and safety. Its customers include all the world's major carmakers. Worldwide, the company has more than 200 subsidiaries and affiliates in 34 countries and regions (including Japan) and employs approximately 120,000 people. Consolidated global sales for the fiscal year ending March 31, 2010, totaled US$32.0 billion. Last fiscal year, DENSO spent 9.1 percent of its global consolidated sales on research and development. DENSO common stock is traded on the Tokyo and Nagoya stock exchanges.

In the Americas, DENSO employs more than 16,000 people with consolidated sales totaling US$5.7 billion for the fiscal year ending March 31, 2010.