DENSO Introduces New 6-Axis Cleanroom Robots
rong>Long reaches, yet a compact design

DENSO's new high-speed, long-reach cleanroom robots offer increased application flexibility in a compact, space-saving design. The DENSO VM-Series six-axis articulated, Class 100 cleanroom robots feature reaches from 1,000 to 1,300 mm and standard cycle times of 0.89 to 0.95 sec, along with repeatability from ±0.050 to ±0.070 mm and a payload capacity of 10 kg.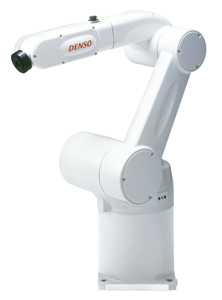 "Our VM Series fills an important niche for customers who want the benefits of a compact, high-speed robot, yet have an application that requires a long reach," said Peter Cavallo, robotics sales manager, DENSO Sales California. "These new cleanroom models will be especially welcome in the medical, pharmaceutical and electronics markets."

The long, slim arms of the VM-Series robots allow them to reach easily around tooling or peripheral equipment, and into deep, narrow spaces such as plastic injection molds, extending their application range. In addition, their high maximum allowable moment of inertia (0.36 kgm² at J4 and J5 and 0.064 kgm² at J6), which is 2.5 times greater than conventional robots, allows a wider choice of end-effectors. Both floor- and overhead-mount models are available.

DENSO's compact robot design features a small footprint and concealed electrical wiring and air lines, facilitating integration and saving valuable factory floor space. ANSI and CE compliance allows global deployment. Typical cleanroom applications include assembly, dispensing, inspection, machine tending, material handling, packaging, and test handling. Complete product specifications and downloadable CAD files are available on the DENSO Robotics Web site at www.densorobotics.com/products_6axis_vm.php.

DENSO is the world's largest user of small assembly robots, with more than 17,000 DENSO robots designed and used in its own manufacturing facilities. More than 42,000 DENSO robots are used in other companies. DENSO Robotics offers a complete line of robots, controllers and software covering a wide range of applications. For more information, visit www.densorobotics.com.

DENSO Corporation, headquartered in Kariya, Aichi prefecture, Japan, is a leading global supplier of advanced technology, systems and components. Worldwide, the company employs approximately 120,000 people in 32 countries and regions, including Japan. Consolidated global sales for the fiscal year ended March 31, 2009 totaled US$32 billion. DENSO common stock is traded on the Tokyo, Osaka and Nagoya stock exchanges in Japan. For more information, go to www.globaldenso.com, or visit our media website at www.densomediacenter.com.

In the Americas, DENSO employs more than 16,000 people with consolidated sales totaling US$5.7 billion for the fiscal year ended March 31, 2009. For more information, go to www.densomedia-na.com.