DENSO Introduces Higher Payload Capacity for VS-Series 6-Axis Robots
style="font-weight: normal; font-size: 12px; font-family: Arial,Helvetica,sans-serif">New 7 Kg Capacity Allows Wider Range of Applications


DENSO announced that it has increased the maximum payload capacity of its VS-Series 6-axis articulated robots by 40 percent, from 5 kg to 7 kg. The new increase, which gives the compact VS-Series robots the highest payload capacity in their class, allows them to handle a significantly wider range of applications than previously.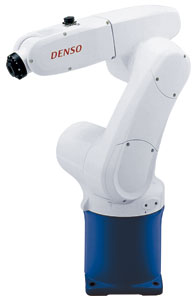 The VS-Series robots are available in reaches from 650 to 850 mm, with cycle times from 0.49 to 0.59 seconds and repeatability from ±0.020 to ±0.030 mm. ANSI and CE compliance allows global deployment.

"Our VS-Series robots have been a mainstay in the industry for many years," said Peter Cavallo, robotics sales manager, DENSO Sales California. "Now with their higher payload capacity, they offer our customers even greater flexibility in meeting their automation challenges."

DENSO is the world's largest user of small assembly robots, with more than 16,000 DENSO robots designed and used in its own manufacturing facilities. More than 37,000 DENSO robots are used in other companies. DENSO Robotics offers a complete line of robots, controllers and software covering a wide range of applications. For more information, visit www.densorobotics.com.

DENSO Corporation, headquartered in Kariya, Aichi prefecture, Japan, is a leading global supplier of advanced technology, systems and components. Worldwide, the company employs approximately 119,000 people in 32 countries and regions, including Japan. Consolidated global sales for the fiscal year ended March 31, 2008 totaled US$40.2 billion. DENSO common stock is traded on the Tokyo, Osaka and Nagoya stock exchanges in Japan. For more information, go to www.globaldenso.com, or visit our media website at www.densomediacenter.com.

In the Americas, DENSO employs more than 17,000 people, with consolidated sales totaling US$8.3 billion for the fiscal year ended March 31, 2008. For more information, go to www.densomedia-na.com.