DENSO I/O Command-Slave Function Allows PLC or PAC Control of DENSO Robots
LONG BEACH, Calif. — DENSO Robotics announced that its latest RC8 robot controller features a built-in I/O command-slave function that allows DENSO robots to be controlled directly by Rockwell and Omron PLCs or PACs. Beta testing for Siemens and Mitsubishi PLCs and PACs is in progress.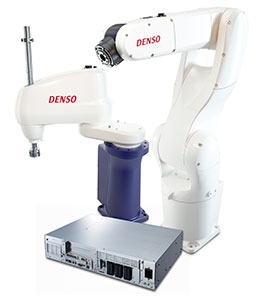 "Ease of use has always been one of our chief considerations," said Peter Cavallo, robotics sales manager, DENSO Products & Services Americas, Inc. "The I/O command-slave function in our RC8 controller makes it easy for customers to program and operatee our robots from within their familiar PLC or PAC environment, without having to learn a specialized programming language."
DENSO is the world's largest manufacturer — and user — of small assembly robots, employing more than 17,000 of its robots in its own facilities. More than 60,000 additional DENSO robots are used by other companies worldwide, giving DENSO the largest market share in this segment by far.
The compact, high-speed robots are widely used in traditional manufacturing sectors, as well as in advanced-technology applications in the medical, pharmaceutical and life sciences industries.
DENSO Corp., headquartered in Kariya, Aichi prefecture, Japan, is a leading global automotive supplier of advanced technology, systems and components in the areas of thermal, powertrain control, electronics, information and safety. Its customers include all the world's major carmakers. Worldwide, the company has more than 200 subsidiaries and affiliates in 38 countries and regions (including Japan) and employs more than 140,000 people. Consolidated global sales for the fiscal year ending March 31, 2015, totaled US$35.9 billion. Last fiscal year, DENSO spent 9.2 percent of its global consolidated sales on research and development. DENSO common stock is traded on the Tokyo and Nagoya stock exchanges.
In North America, DENSO employs more than 22,000 people at 30 consolidated companies and affiliates. Of these, 25 are manufacturing facilities located in the United States, Canada and Mexico. In the United States alone, DENSO employs more than 14,000 people in California, Michigan, North Carolina, South Carolina, Tennessee, Kentucky, Georgia, Iowa, Ohio, Pennsylvania, Texas and Arkansas. DENSO's North American consolidated sales totaled US$8.0 billion for the fiscal year ending March 31, 2015.