Dean Elkins of Motoman Leads RIA in 2010 as Chairman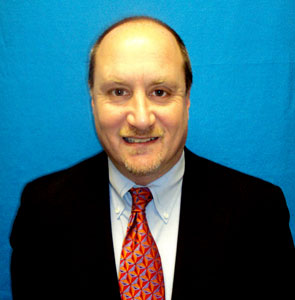 ANN ARBOR, Michigan – Dean Elkins, Senior General Manager of Motoman Inc. (West Carrollton, Ohio), has been elected as the new Chairman of Robotic Industries Association (RIA) for 2010. RIA has been the industry's trade group since 1974. Elkins is RIA's 19th chairman. He succeeds Richard Litt, Founder and Chairman of Genesis Systems Group, LLC (Davenport, Iowa), who served as RIA Chairman in 2008 and 2009. Litt will continue to serve on the RIA Board as Past Chair.
Elkins has been on the RIA Board of Directors since 2000, and was most recently the RIA First Vice Chair. He has been extensively involved in other RIA activities including serving on the Statistics and Show Committees, moderator for the Robotics Industry Forum and as Membership Committee Chairman.
Regarding the association, Elkins says, "I look forward to steering RIA's growth as we emerge from some trying economic times. It is the RIA's goal to continue to deliver association growth by demonstrating our value to automation suppliers, systems integrators, the automotive and non-automotive communities, educators and consultants. We can do this through continued promotion of the identity of the RIA."
"I am excited about working closely with the RIA Board and staff as well as the Automated Imaging Association and Motion Control Association Boards to help instill a new excitement and synergy in the automation industry and our Automation Technologies Council. A few of the initiatives that we will focus on include brand awareness of the RIA, retooling our trade show and conference events to add new relevance to them, certification programs for systems integrators and educators, and the development and proliferation of new safety standard specifications," Elkins explained.
Elkins has worked in the robotics industry since the early 1980's. He has been employed with Motoman since its inception in 1989 and has held several domestic and international senior management positions. On the state of automation, Elkins believes that, "Projects are coming back now. There is much more going on than the recent 'busy work' of justification and validation of current projects that has been taking place over the previous months." He sees the growth of automation through "rock-solid technology, education, social networking and more."
In addition to Elkins and Litt, four other Directors comprise the 2010 RIA Executive Committee including: Catherine Morris of ATI Industrial Automation as First Vice Chair; Stuart Shepherd, KUKA Robotics as Second Vice Chair; Michael Kunkle of Harley-Davidson Motor Co. as Secretary & Treasurer and Jeff Burnstein, RIA President.
The RIA Board is comprised of sixteen industry leaders, each serving two-year terms. Five seats were elected for the 2010-2011 term. Joining Elkins on the Board, in the user category and elected for his first two-year term, is Director Curtis Richardson of Spirit AeroSystems, Inc. Re-elected Directors are John Dulchinos, Adept Technology, Inc.; Mick Estes, FANUC Robotics America, Inc.; Michael Jacobs, Applied Manufacturing Technologies and ?ke Lindqvist, ABB, Inc. Dana Komin, Director, Controls, Conveyors, Robotics & Welding, General Motors Corporation, departs the Board.
Founded in 1974, RIA represents some 250 North American companies including leading robot manufacturers, component suppliers, system integrators, end users, research groups, and consulting firms. The association sponsors the biennial International Robots, Vision & Motion Control Show and Conference plus many regional events, and is secretariat of the ANSI/RIA R15.06-1999 Robot Safety Standard. RIA also serves as North America's representative to the International Federation of Robotics and is the only source of North American robot sales statistics. It sponsors the world's most comprehensive robotics website, Robotics Online (www.robotics.org).
For more information about RIA and the robotics industry, visit www.robotics.org or contact RIA Headquarters at 734-994-6088.
The full roster of RIA Board of Directors for 2010 follows:
2010 RIA Board of Directors
Dean Elkins
(Chairman)
Sr. General Manager, Eastern Region
Motoman Inc.

Catherine Morris
(1st Vice Chair)
Senior Account Manager
ATI Industrial Automation

Stuart Shepherd
(2nd Vice Chair)
President
KUKA Robotics Corporation



Michael Kunkle
(Secretary & Treasurer)
Senior Manufacturing Engineer
Harley-Davidson Motor Co.

Richard O. Litt
(Past Chair)
Chairman
Genesis Systems Group

Jeff Burnstein
(President)
President
Robotic Industries Association

John Burg
President
Ellison Technologies Automation

Paul Doll
Automation Manager
Kraft Foods

John Dulchinos
President/CEO
Adept Technology, Inc.

Mick Estes
General Manager, Distribution
FANUC Robotics America, Inc.

Joe Gemma
Robotics North America Division Manager
Stäubli Robotics

Joyce Guthrie
Sr. Engineer
US Postal Service

Michael Jacobs
President/CEO
Applied Manufacturing Technologies

Åke Lindqvist
Vice President
ABB Inc.

Raymond Puffer
Program Director, Industrial Automation
Rensselaer Polytechnic Institute

Curtis Richardson
Associate Technical Fellow - Robotics
Spirit AeroSystems, Inc.


Note: Photo of Dean Elkins available on request.
Contact:
Jim Adams
Robotic Industries Association
734/994-6088
[email protected]