David Doyle of HEIDENHAIN CORPORATION To Receive ITLG Silicon Valley 50 Award at Stanford University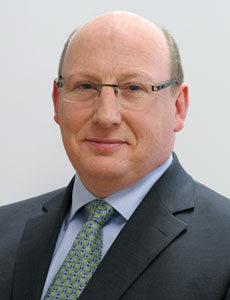 SCHAUMBURG, IL – Tomorrow, HEIDENHAIN CORPORATION's President and Managing Director David Doyle will receive a 2018 Silicon Valley 50 Award at Stanford University. This is the 11th annual Silicon Valley Global Awards being hosted by ITLG (Irish Technology Leadership Group), which brings together the most entrepreneurial minds in the Silicon Valley and beyond to honor top Irish and Irish-American executives making a significant impact in their field.
A total of fifty executives are selected and honored each year.
With 25 years of experience in technical, product management and senior leadership roles, Doyle joined HEIDENHAIN CORPORATION in 2016, and currently assumes full responsibility for the customer-focused operations in North America. Doyle is spearheading the organization and business development activities within HEIDENHAIN's electronics, automation and machine tool capital equipment markets. HEIDENHAIN's products and technology also enable advanced systems capabilities in the robotics, automotive, energy, agriculture, medical and life science industries.
As HEIDENHAIN's President/Managing Director, Doyle is also currently investing in the California Bay Area resources and infrastructure, supporting OEM partners with both the HEIDENHAIN product portfolio and ETEL-brand motion control systems expertise.
Born in Nenagh, Co. Tipperary, Ireland, David attended St Paul's College, Dublin, and Maynooth University (National University of Ireland), earning a double honors degree in chemistry and experimental physics. He has also attended Stanford University for professional development programs.
About HEIDENHAIN
Dr. Johannes HEIDENHAIN GmbH, headquartered in Traunreut, Germany, develops and supports motion control feedback solutions for the machine tool, semiconductor, electronics assembly and test, metrology, automation, medical, energy, biotechnology and other global markets. HEIDENHAIN employs approximately 6,000 people worldwide in its core business activities. The North American subsidiary is HEIDENHAIN CORPORATION, headquartered in Schaumburg, IL, and San Jose, CA, and has been serving the U.S. industry for over 50 years. www.heidenhain.us