DataMan 8000 Handheld Barcode Readers Receive Upgrade
New features enhance existing groundbreaking technology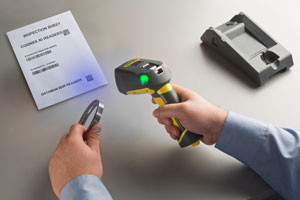 Cognex Corporation (NASDAQ: CGNX) has upgraded its line of DataMan® 8000 series industrial handheld barcode readers with a major performance boost to both reading robustness and speed. The already powerful handheld readers are now equipped with proprietary Cognex Hotbars™ image-analysis technology for the fastest 1-D barcode reading performance and Cognex 2DMax+™ algorithm for unmatched decoding of 2-D printed and DPM matrix codes. The new features also include a rapid dual-focus image acquisition routine which enables the readers to decode a wide range of barcode sizes even faster.
The most advanced barcode readers on the market

"The DataMan 8000 series was a true breakthrough for industrial handheld readers when it was released in 2010," said Carl Gerst, Business Unit Manager for ID Products. "However, at Cognex, we strive for excellence and are always looking for ways to break new ground in technology. With the addition of Hotbars, 2DMax+, and faster focusing capability, the DataMan 8000 series is the most powerful and reliable industrial handheld reader available."

The DataMan 8000 series is designed for the factory floor and offers the most advanced code reading technology.

Easily read the most challenging 1-D barcodes
1DMax+™ with Hotbars enables the DataMan 8000 series to read the most challenging 1-D barcodes quickly and easily even when those barcodes are damaged, blurred, at extreme perspective, or otherwise challenging.
Customizable settings for 2-D code reading
The DataMan 8000 series now utilizes the powerful 2DMax+ algorithm, which has the fastest decode times and is effective even on codes with perspective distortion, low contrast, or finder and clocking pattern damage. The DataMan 8000 series now allows the user to select the type of code to be read (from easy to extremely challenging). This is especially useful for increasing reading speeds when only printed or high-contrast codes are being read or when facing the most challenging DPM codes that cannot be read with standard settings.

Fast image acquisition and liquid lens settings
The DataMan 8000 series is now equipped with patented auto-exposure algorithms and faster image acquisition and liquid lens performance. The faster imaging means readers can now be used in a dual focus mode, which allows users to increase the depth of field or to read a wide range of barcode sizes, from very large multi-inch barcodes to tiny 5 mil 2-D Data Matrix codes.

The DataMan 8000 series is available in two base models:

DataMan 8500
The DataMan 8500 readers incorporate patented UltraLight® technology from Cognex for superior image formation on any code type and surface. UltraLight illumination provides dark field, bright field and diffuse lighting all in one electronically controlled light.

DataMan 8100
The DataMan 8100 includes all of the features of the DataMan 8500 readers as well as bright field illumination. The DataMan 8100 readers are ideal for applications that require superior code reading performance without specialty lighting.

For more information about the DataMan 8000 series of industrial handheld barcode scanners, visit http://www.cognex.com/handheld-barcode-scanners.aspx.

About Cognex
Cognex Corporation designs, develops, manufactures and markets machine vision and industrial ID systems, or devices that can "see." Cognex vision and ID systems are used around the world for a wide range of inspection, identification and guidance applications throughout the manufacturing and distribution process. Cognex is the world's leader in the machine vision and industrial ID industries, having shipped more than 850,000 systems, representing over $3 billion in cumulative revenue, since the company's founding in 1981. Headquartered in Natick, Massachusetts, USA, Cognex has regional offices and distributors located throughout North America, Europe, Asia, Japan and Latin America.