DataMan® 5.2 Software
Cognex Advances Industrial ID with Powerful New Dataman Software Release

Software update expands tuning and test mode options for DataMan fixed-mount ID readers
Cognex Corporation (NASDAQ: CGNX) today announced its DataMan® 5.2 software release with expanded tuning and scripting capability as well as a new test mode for its popular DataMan 300 and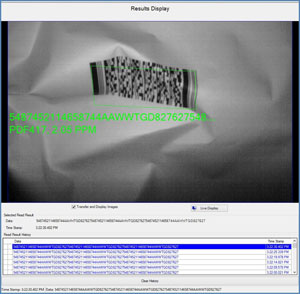 503 series of barcode readers. The new software significantly increases read rates by decoding lower resolution 1-D codes and extending intelligent tuning capabilities to all symbologies, including Aztec, MaxiCode and PDF417. The software release includes the high-performance Hotbars™ algorithm, which handles both 1-D and PDF417 barcodes.

The DataMan 5.2 software release extends the easy-to-use 2-D intelligent tuning capability that was introduced by the popular DataMan 300 Series. This intelligent tuning capability decreased set up time while increasing read rates for Direct Part Mark (DPM) code reading applications. This software release extends that advanced capability to other symbologies, such as 1-D barcodes, MaxiCode and QR codes. These new tuning capabilities bring proven, industry-leading technology to code reading applications in consumer products, logistics, food, beverage and automotive. This new release also includes added capabilities to the scripting feature of the DataMan 300 for advanced logic and decision making in the reader, and 1-D barcode quality metrics for users to optimize their processes.

"The DataMan 5.2 software release gives the DataMan 300 and 503 readers a significant performance boost in both capability and ease of use," said Carl Gerst, Vice President and Business Unit Manager, ID Products. "The field-proven intelligent tuning has been extended to all symbologies, making setup as simple as pushing a button. For more difficult applications, the enhanced scripting engine allows the logic and decision making to be done within the reader. This simplifies the PLC code integration into the factory network and saves our customers time and money."

The DataMan 5.2 software is available now for download. For more information about the DataMan 5.2 software and barcode readers, visit https://www.cognex.com/products/machine-vision/2d-machine-vision-systems/in-sight-vision-software or call 1-(855)-4-COGNEX.

About Cognex Corporation
Cognex Corporation designs, develops, manufactures and markets a range of products that incorporate sophisticated machine vision technology that gives them the ability to "see." Cognex products include barcode readers, machine vision sensors and machine vision systems that are used in factories, warehouses and distribution centers around the world to guide, gauge, inspect, identify and assure the quality of items during the manufacturing and distribution process. Cognex is the world's leader in the machine vision industry, having shipped more than 900,000 vision-based products, representing over$3.5 billion in cumulative revenue, since the company's founding in 1981.

Headquartered in Natick, Massachusetts, USA, Cognex has regional offices and distributors located throughout North America, Japan, Europe, Asia and Latin America. For details visit Cognex online.