Custom MacBUILT Screw Driven Actuator System
Macron Manufacturers Representatives can get pretty creative when working with our customers to solve challenging motion problems. Despite the heavy load of the ceramic material that needed to be carried, one of our reps came up with a simple MacBUILT solution.
A MSA-DRT dual rail screw table was sandwiched between two large MacFRAME squares about the size of a standard pallet. Four short stroke 25 series linear bearings in each frame corner provide load bearing support and smooth guided motion over about a 6-inch travel.
Custom MacBUILT Solution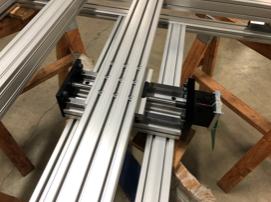 We created this screw table as a part of a shuttle assembly used to move a molding fixture in a ceramics fabrication process. Due to the heavy load of the ceramic material being transported, the dual rail table and linear bearings were the ideal components due to their stout design characteristics and fluid range of motion. This screw table solution features many design elements that are ideal for harsh manufacturing environments including special seals used on both linear load carrying bearings and a ball screw that provides superior load carrying capabilities.
The client was very happy with the results, saying, "I love working with Macron products. Their wide range of products and flexibility of combining them in creative ways to solve my customer problems contributes greatly to our success."
Do you need unique custom solutions, but don't think your build schedule can take the hit? Don't worry, Macron specializes in developing and delivering solutions that meet your project deadlines. Take a look at some of the other variations of MacBUILT products Macron has created for their customers, and contact your authorized Macron representative today to talk with one of Macron's creative Application Engineers.