ctrlX AUTOMATION ecosystem with app technology attracts more and more third-party providers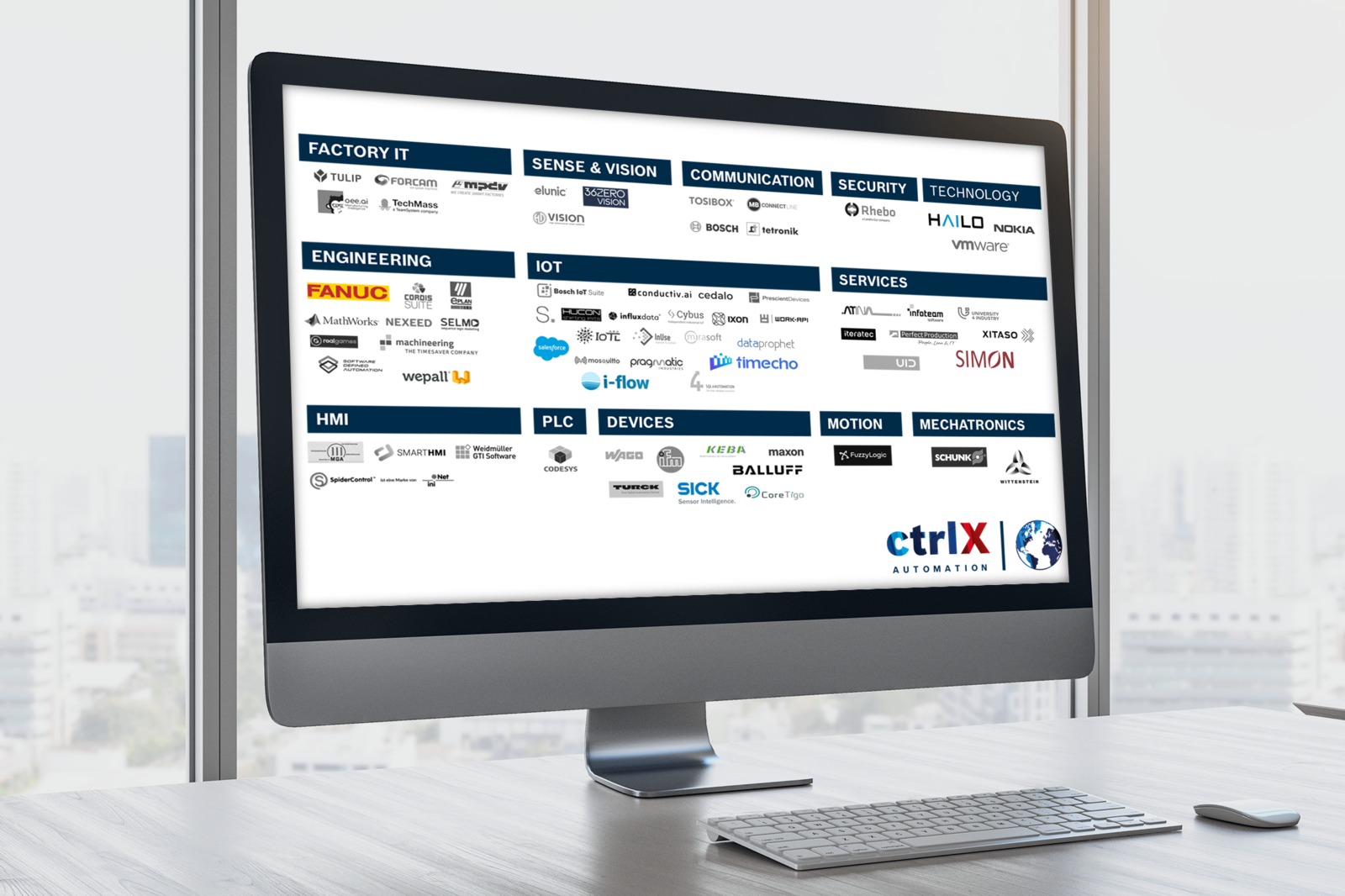 With ctrlX AUTOMATION, Bosch Rexroth has created a world of automation in which the specialist knowledge of companies from various domains is combined for the purpose of co-creation. The partner network, ctrlX World, is expanding the automation toolkit –adding hardware and new apps. More than 60 third-party providers have already joined the partner world – most recently Salesforce and SICK.
"The ctrlX AUTOMATION solutions are designed to reduce the time to market for machine manufacturers and allow users to maximize production efficiency. Together with partners from various levels and specialist domains, we are helping to make this possible. In our ctrlX Store, apps from Bosch Rexroth and third-party providers for any automation task can be downloaded. Our partner world is growing more and more quickly. In just a few weeks, we have increased the number of third-party providers from 50 to around 60," explained Hans Michael Krause, Director of Product Management ctrlX World at Bosch Rexroth.
CRM expertise and sensor apps for automation
Two of the newest members of ctrlX World are Salesforce and SICK. Salesforce, the market leading CRM provider, contributes its expertise and solutions to ctrlX World. Salesforce helps users to implement digital service concepts. With the apps and services, companies can link their value creation chain and partners, implement new services, and automate processes. For example, new business models, proactive services, and central digital touchpoints can be developed.
"Our joint solutions with Bosch Rexroth and other ctrlX World partners enable data-based decision making and business automation in mechanical engineering and other industries. For example, manufacturers can quickly visualize and analyze all of the data coming from ctrlX AUTOMATION. Another use case is the preventive maintenance of machines or the automation of spare parts orders. Our Manufacturing Cloud enables business and service automation based on business intelligence. ctrlX AUTOMATION provides the important data for this," said Juergen Brixel, Regional Vice President Industry Solutions & Strategy at Salesforce.
SICK has also joined the ctrlX World, and is working with Bosch Rexroth to create added value from sensor data. The company specializes in sensor and system solutions for industrial applications – from factory and logistics automation to the automation of processes. With its portfolio of solutions, SICK creates safe working environments and allows efficient automation and digitalization. In addition to the straightforward integration of sensor data, the established SICK AppSpace ecosystem – an engineering framework for sensor applications – is also made available on the control system ctrlX CORE. This opens the door to sensor apps and digital services.
"By integrating our solutions into the ctrlX AUTOMATION partner world, we can provide sensor and application data in the easiest way possible. We do this via the ctrlX Data Layer. It offers secure, managed access to the data. Machine manufacturers for example can easily benefit from valuable data and use these data in order to meet IoT and Industry 4.0 requirements," said Walter Reithofer, Senior Vice President R&D at SICK.
Other partners that have joined the ctrlX World in recent months include: 36ZERO Vision by Deutschdata Karamat und Ziesche GmbH, Dataprophet, FANUC Deutschland GmbH, Hailo Technologies Ltd., i-flow GmbH, KEBA Industrial Automation GmbH, SIMON Modellierungen GmbH, Timecho Europe GmbH, WEPALL ROBOT EASY TOOLS, S.L. and Balluff GmbH.