CSA-5200/5100 Series Network Appliance
The CSA-5200/5100 Series provides 11 times faster Layer 3 forwarding and 4 times higher DPI performance compared with native Linux for Next-generation Firewall applications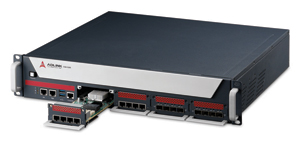 ADLINK Technology, Inc., a leading global provider of cloud-based services, intelligent gateways and embedded building blocks for edge devices that enable the Internet of Things (IoT), today announced the CSA-5200/5100 Series, its new 1U/2U rackmount network appliance with 4th generation Intel® processor Xeon® E3-1200 v3 and C226 Chipset. The CSA-5200 Series supports ADLINK's networking software package, PacketManager, which is ideal for use in unified threat management (UTM), next-generation firewall (NGFW), deep packet inspection (DPI) and other network security applications. For a closer look, you can see the CSA-5200 in ADLINK's booth 978 this week at IDF14.

Unique among its competitors, the CSA-5200/5100 Series network appliance is an ADLINK Application Ready Intelligent Platform (ARIP) designed specifically for network communications with full support for the ADLINK PacketManager, a software package that includes Control Plane configuration tools and Data Plane packet processing acceleration capabilities. Empowered by the ADLINK PacketManager, the CSA-5200/5100 Series brings a breakthrough in DPI/security performance and packet processing, with up to 11 times faster Layer 3 forwarding performance and 4 times faster DPI performance compared to that of native Linux.

The ADLINK CSA-5200/5100 Series features high scalability through four expansion slots for Network Interface Modules (NIM), with a choice of GbE, SFP and SFP+ ports; four 2.5"/3.5" SATA drive bays on the 2U model (CSA-5200); and one 2.5" SATA drive bay plus two mSATA SSD slots on the 1U model (CSA-5100). Flexible storage support is provided in the form of SATADOM and CFast slots, and one PCIe slot is available for a hardware accelerator card to offload processor-intensive security tasks.

The ADLINK CSA-5200/5100 Series is designed for customers who are seeking a flexible and compact design, improved DPI/security performance, accelerated packet processing, high reliability and stability, good cost-performance ratio and fast time-to-market. With over 10 years of experience in the telecom and networking industries, ADLINK is able to provide our customers with a variety of application-ready solutions suited to their needs.

For more information on the CSA-5200/5100 Series network appliance, please visit http://www.adlinktech.com.

About ADLINK
ADLINK Technology is enabling the Internet of Things (IoT) with innovative embedded computing solutions for edge devices, intelligent gateways and cloud services. ADLINK's products are application-ready for industrial automation, communications, medical, defense, transportation, and infotainment industries. Our product range includes motherboards, blades, chassis, modules, and systems based on industry standard form factors, as well as an extensive line of test & measurement products and smart touch computers, displays and handhelds that support the global transition to always connected systems. Many products are Extreme Rugged™, supporting extended temperature ranges, shock and vibration.

ADLINK is a Premier Member of the Intel® Internet of Things Solutions Alliance and is active in several standards organizations, including PCI Industrial Computer Manufacturers Group (PICMG), PXI Systems Alliance (PXISA), and Standardization Group for Embedded Technologies (SGeT).

ADLINK is a global company with headquarters in Taiwan and manufacturing in Taiwan and China; R&D and integration in Taiwan, China, the US, and Germany; and an extensive network of worldwide sales and support offices. ADLINK is ISO-9001, ISO-14001, ISO-13485 and TL9000 certified and is publicly traded on the TAIEX Taiwan Stock Exchange (stock code: 6166).

Embedded Vision
This content is part of the Embedded Vision curated collection. To learn more about Embedded Vision,
click here
.