Cricket® IP Security Cameras
rong>Point Grey's New Cricket® IP Security Cameras Feature 720p and 1080p Sony® Exmor® CMOS Starting at $299

Richmond, BC, Canada – Point Grey, a world-leading Canadian designer and manufacturer of innovative, high-performance digital cameras, today announced the release of the all new Cricket® IP security camera family.

The Cricket IP camera packs exceptional imaging quality and rich IP surveillance features into a low cost, PoE-enabled network camera. The first two available Cricket models offer 720p and 1080p resolutions at 60 fps, using Sony® Exmor® CMOS sensors suitable for challenging low-light conditions and dynamic scenes.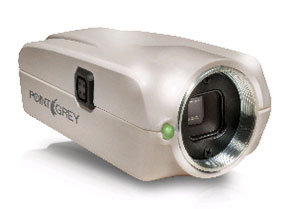 The Cricket camera employs Sony's Xarina® IP camera platform, which integrates Sony's superior image signal processing and video encoding capabilities to provide multi-image wide dynamic range (WDR) functionality, 2D and 3D noise reduction, H.264 and MJPEG compression, multi-streaming, and ONVIF compatibility. Both models are compatible with 1/3" manual iris or DC auto iris lenses, sold separately.

"The Cricket camera offers excellent image quality, low light performance, and wide dynamic range capability comparable to more expensive security and surveillance cameras in the industry" says Michael Gibbons, Director of Sales and Marketing at Point Grey. "We have taken our 15 years of experience working with the most sophisticated digital camera technology in the world and created a low-cost, compact and easy-to-use IP camera that delivers superior imaging performance without the unnecessary gimmicks."

The CR-POE-13S2C-CS (720p60) is list priced at $299, while the CR-POE-20S2C-CS (1080p60) model is priced at $349. Both models are available to order now directly from Point Grey and via the online store at www.ptgrey.com/cricket (for North American customers).

About Point Grey
Point Grey Research, Inc. is a world-leading designer and manufacturer of innovative, high-performance digital cameras for industrial, life science, traffic and security applications. We offer a unique and comprehensive portfolio of USB 3.0, GigE, FireWire, USB 2.0 and Camera Link products known for their outstanding quality, ease of use, and unbeatable price-performance. Point Grey was founded in 1997 and is based in Richmond, Canada. A broad range of hardware, software and mechanical engineering skills under one roof has allowed Point Grey to successfully bring many innovative and ground-breaking products to market. Point Grey currently employs over 170 people and has international offices in Germany, China, Japan, and Italy.

Media Contact
Renata Sprencz
Marketing Communications Manager
+1.604.242.9937 or +1.866.765.0827 (toll free within North America)