cPCI-6210 Series CompactPCI Processor Blade
The cPCI-6210 Series offers an outstanding performance-per-watt ratio and is ideally suited for Military, Communications and Industrial Control applications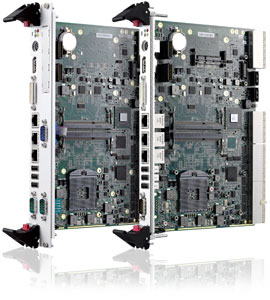 ADLINK Technology, Inc. (TAIEX: 6166), a leading supplier of industrial building blocks, introduces the PICMG 2.0 compliant cPCI-6210 Series, a 6U CompactPCI processor blade based on the latest quad- and dual-core 2nd Generation Intel® Core™ i7 and Intel® Core™ i5 processors and up to 16 GB DDR3-1600 memory support. The cPCI-6210 is a performance computing solution with enhanced management features such as PICMG 2.9 compliant IPMI, remote management based on Intel® vPro™ technology and optional Trusted Platform Module (TPM) for security management, and is suitable for applications in Military, Communication and Industrial Control segments.

ADLINK's cPCI-6210 Series offers oustanding processing and graphics performance for applications requiring reliable, scalable CompactPCI® products with the latest quad-core CPU, 2D/3D graphics engine with multiple displays. Dual independent display functionality is provided via dual-mode DisplayPort and DVI-I graphics interfaces. The DisplayPort interface supports single-link DVI or HDMI with a passive adapter cable and analog VGA output via an active adapter cable. When coupled with a ADLINK XMC-G460 graphics module installed in the XMC site or an ADLINK cPCI-R6700 Rear Transition Module, the cPCI-6210 Series supports up to four independent displays.

The cPCI-6210 Series is ADLINK's first CompactPCI offering to support hardware based remote management capability using Intel® vPro™ technology. "To address the needs of our customers who have requested remote management capabilities to save on costs and improve efficiency of both operation and maintenance, ADLINK's cPCI-6210 Series implements remote management functionality that allows administrators to troubleshoot, query, upgrade and protect the device via a network connection." states Eric Kao, Director of ADLINK's Embedded Computing Product Segment.

"The 2nd Generation Intel® Core™ processors and the Intel® QM67 PCH enable smart multi-tasking capabilities, remote manageability, and high-end performance for embedded applications," said Matt Langman, director of product marketing, Intel Personal Solutions Division. "The integrated Intel® HD Graphics 3000 supports DirectX 10.1 and OpenGL 3.1 which means visually stunning experiences are easier to deploy in embedded applications."

Storage interfaces supported by the cPCI-6210 Series include one SATA 6Gb/s direct connector for a 2.5" HDD/SSD, one 7-pin SATA port for external storage, an optional CompactFlash socket, a built-in CFast socket and three SATA ports routed to the RTM with RAID 0/1/5/10 support. Up to eight SAS/SATA interfaces with hardware RAID are supported by the cPCI-R6200 RTM.

The cPCI-6210 Series can operate in a system slot as a master or in a peripheral slot as a standalone blade for high density computing applications. In addition, the cPCI-6210 Series is compliant with the PICMG 2.9 specification and supports system management functions based on the Intelligent Platform Management Interface (IPMI) as well as hardware monitoring of physical characteristics such as CPU and system temperature, DC voltages and power status. TPM 1.2 is also supported on selected models to provide efficient hardware-based data protection. Through careful component selection, the cPCI-6210 optionally supports an extended operating temperature range of -40°C to +70°C.

The ADLINK cPCI-6210 Series supports operating systems including: Microsoft Windows XP, Microsoft Windows 7, Red Hat Enterprise Linux 6 and VxWorks.

For more ADLINK CompactPCI product information, please visit: http://www.adlinktech.com/cPCI/.

Embedded Vision
This content is part of the Embedded Vision curated collection. To learn more about Embedded Vision,
click here
.