Coval GVMAX HD Versatile Vacuums
Vacuum handling systems in industry must respond to very diverse requirements, gripping parts of different weight or material, integration on machines and robots, high speed operation. COVAL's GVMAX HD series of heavy-duty vacuum pumps combine robustness, power, modularity and communication, allowing them to adapt to multiple applications. And thanks to IO-Link technology, they are fully plugged-in to the Industry of the Future.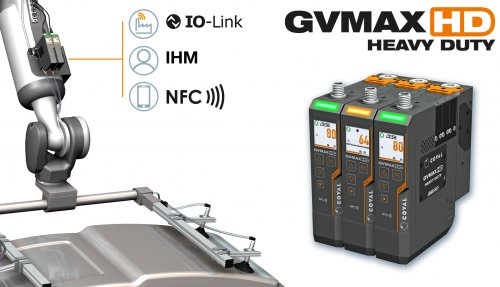 IO-Link and NFC ease communication
The IO-Link communication interface of the Coval GVMAX HD vacuum pumps makes installation fast and economical, supports continuous diagnostics, centralized parametrization and efficient communication with higher level protocols (Ethernet/IP, PROFINET, EtherCAT...).
In addition, thanks to the NFC technology integrated in the GVMAX HD vacuum pumps, all parametrization and diagnostic functions are accessible and can be modified in the dedicated COVAL Vacuum Manager app on an Android or IOS mobile device. The NFC interface combined with the app make it possible to copy parameters from one pump to another very easily and can store up to five different parameter configurations.
Product ergonomics have been centred on the operator, with a Human Machine Interface (HMI) that makes the operating, diagnostic and maintenance information easy to read and allows parameters to be set up rapidly. The 1.54'' colour LCD display is intuitive, with explicit messages in 5 languages. The pump status is highly visible thanks to a 3-colour status light.
Finally, with the GVMAX HD vacuum pumps, the user can benefit from technical assistance thanks to the data sent by the application to the COVAL experts. The new GVMAX HD vacuum pump is designed to permanently communicate with its environment, ready to play its part to the full in Industry 4.0.

Performance, robustness and energy savings
Equipped with a single-stage venturi, the GVMAX HD vacuum pump delivers powerful suction rates and reduced emptying times for gripping, transferring or clamping parts of various sizes and weights. For example, max. vacuum: 85%, suction flow rate up to 230 Nl/ min and 0.4 s to empty a volume of 1 litre at 75% vacuum.
Each component has been designed and tested in real-life situations to meet the toughest environmental conditions. As such, the pumps are IP65 and guaranteed for more than 50 million cycles.
The performance of the vacuum pumps comes along with reduced energy consumption. The ASC (Air Saving Control) technology, which provides intelligent vacuum regulation by stopping air consumption when the set vacuum level is reached, offers up to 90% energy savings.

Ease of use
The GVMAX HD series is designed to allow quick and easy maintenance intervention, while minimizing the impact on production. The patented Smart Swap system, a Coval innovation, allows pumps to be replaced while under pressure and without needing tools. In addition, the modular design of the GVMAX HD makes it possible to make targeted interventions on each pump element, simultaneously lowering costs and intervention time.
To adapt to the installation setup and available space, it is possible to install each pump as a stand-alone assembly or as an island assembly of up to 4 pumps with an internal pressure common.

What makes the difference
Robustness: designed to operate in harsh environments.
Performance: combines power and efficiency for gripping, transferring and clamping.
Communication: integrates perfectly into the process of intelligent factories.
Modularity: allows targeted maintenance interventions on each of its subsets.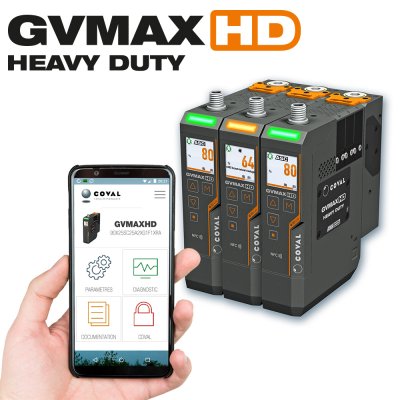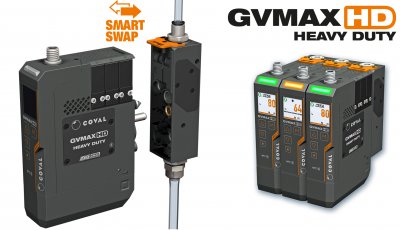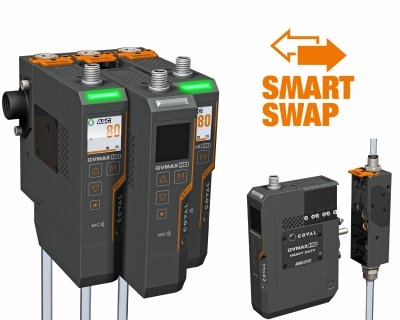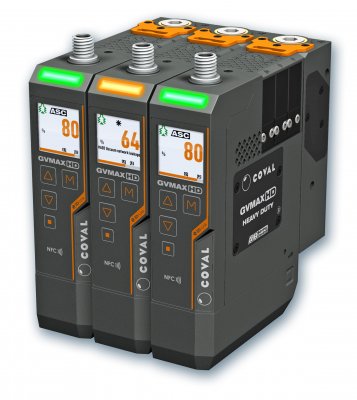 COVAL. The vacuum you need. Where you need it, when you need it.

Established in the south of France, COVAL SAS designs, produces and markets high-performance vacuum components and systems throughout the entire world for industrial applications in all lines of business.

COVAL is an ISO 9001 V2015 certified company that innovates on a global scale in the area of vacuum handling using optimized components with integrated, intelligent and reliable features. Its solutions can be adapted to any industrial context and their primary goal is to improve productivity with safety in mind.

COVAL's clients are present in all major industrial fields in which vacuum handling is critical for efficiency and productivity. These fields include packaging, automotive, plastic processing, aeronautics, and palletizing.

COVAL markets its products and services throughout Europe as well as in North and South America through its subsidiaries and its network of authorized distributors.

Facts and Figures

Company
French company founded in 1986
Company size: 135+ employees
2020 revenue: €20 million
25 distributors in France and 35 international
5 subsidiaries: China, Germany, Italy, Spain, U.S.A.
Production site and head office: Montélier, France
Products
Vacuum pumps, suction cups, vacuum switches, vacuum grippers, accessories