COVAL brings vacuum into Industry of the Future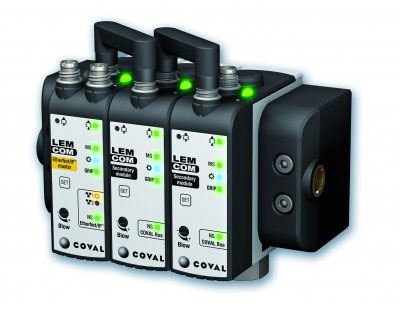 LEMCOM, first communicating vacuum pump on field bus.
The factory of the future is no longer just a project. Within the workplace, tools and workstations communicate on a continual basis. Machines, systems and products exchange information, between themselves as well as externally.
The aim is to give more flexibility, intelligence and energy savings to production tools, in order to meet industry's needs.
COVAL accompanies its customers during this transformation thanks to its mechatronics expertise applied to vacuum handling. Commercializing the LEMCOM, communicating vacuum pump on field bus, proves this. It's a world first!
Future Industry
LEMCOM is the most successful demonstration of a vacuum pump's mechatronic design. It is designed to meet integrator as well as user expectations, in terms of flexibility, safety, productivity and energy savings.
LEMCOM installs very effective communication at distance between the operator and the vacuum pump. This communication makes it possible to receive information in real time, but above all to act at any moment to change settings, to ensure corrective and preventive maintenance of the vacuum pump.
Energy-saving technology
The LEMCOM affirms its continuity with the other COVAL intelligent vacuum pumps. It integrates the COVAL energy savings technologies, ASR (Air Saving Regulator) and ASC (Air Saving Control), making it possible to attain up to 90% energy savings.
The new communication functions, with its near and distant environment, enable the LEMCOM to go even further in terms of performance, simplicity and energy savings.
The master module is a fully-integrated pump: no gateways or other interfaces are necessary.
2 integrated communication ports: perfect continuity on field bus.
Innovative cabling structure provides great configuration flexibility: stand-alone, island or customized. The aim is to be able to position the mini vacuum pumps as close as possible to the suction cups to reduce evacuation time and thus reduce cycle time and energy consumption.
Simplified PLC configuration: EDS file, Add-On Instructions.
In addition, 2 cables are enough to supply and manage 1 to 16 LEMCOM modules.
A technology validated by industrial leaders
As with the range of new COVAL products, the LEMCOM series was co-developped with partner customers, be they OEMs, integrators or users.
COVAL's aim is twofold: propose products that best meet the expectations of different industries and to ensure, at the time of marketing, a perfectly operational and reliable solution.
Applications
Gripping airtight materials in the automobile, aeronautical and plastics sectors.
About COVAL
COVAL. The vacuum you need. Where you need it, when you need it.
Established in the south of France, COVAL SAS designs, produces and markets high-performance vacuum components and systems throughout the entire world for industrial applications in all lines of business. COVAL is an ISO 9001 V2015 certified company that innovates on a global scale in the area of vacuum handling using optimized components with integrated, intelligent and reliable features. Its solutions can be adapted to any industrial context and their primary goal is to improve productivity with safety in mind. COVAL's clients are present in all major industrial fields in which vacuum handling is critical for efficiency and productivity. These fields include packaging, automotive, plastic processing, aeronautics, and palletizing. COVAL markets its products and services throughout Europe as well as in North and South America through its subsidiaries and its network of authorized distributors.
Facts and Figures
French company founded in 1986
Company size: 100+ employees
2016 revenue: €16.5 million
25 distributors in France and 30 international
5 subsidiaries: China, Germany, Italy, Spain, U.S.A.
Production site and head office: Montélier, France
Products
Vacuum pumps, suction cups, vacuum switches, vacuum grippers, accessories