Coval announces a new Easy Clean vacuum pump in its Wash Down range designed for intensive and frequent cleaning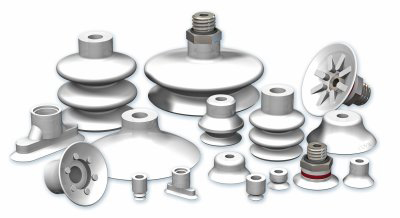 Good hygiene is paramount to the food and pharmaceutical industries. Manufacturing must ensure product quality and thus protect the consumer against any risk. Components used near the manufactured products or which come into in direct contact with them must easily cleaned on a very regular basis. COVAL offers a new Wash Down range of suction cups and vacuum pumps that can be exposed to water and humidity and quickly dismounted, while still maintaining a high performance level. They fully meet the strict hygiene requirements of these industries.
Suitably-designed components
The various components of Coval's Wash Down range, the Easy Clean vacuum pump and the associated suction cups, inserts and accessories perfectly tolerate splashing water spray and humid environments and can be used near food or pharmaceutical products. They are designed to favour smooth surfaces and retention-free areas in order to prevent any risk of contamination. As they are made of plastic and stainless-steel materials, the pump components contribute to preserving product hygiene. In addition, each of them is designed and manufactured for effortless assembly as well as to facilitate and speed up cleaning using any type of technique.
No more need to choose between maximum hygiene and productivity.
A new Easy Clean vacuum pump
The nozzle profile of the mixer of the Easy Clean pump in the Wash Down range operates at 4 bar, thus optimizing performance and increasing the efficiency of the suction flow rate. Its compact and lightweight design allows the pump to be installed as close as possible to the suction cups in order to improve production rates. The production lines are thus more efficient and operate in a way that respects the food environment.
Productivity is increased while maintaining a high level of quality and reducing production and maintenance costs.
Materials compatible with hygiene standards
In addition to the pump, COVAL offers the food industry a wide range of silicone suction cups, compatible with FDA food standards and European directives.
Coval's new Wash Down range is an effective solution in terms of quality, productivity and hygiene for production in humid environments.
About Coval
COVAL. The vacuum you need. Where you need it, when you need it.
Established in the south of France, COVAL SAS designs, produces and markets high-performance vacuum components and systems throughout the entire world for industrial applications in all lines of business.
COVAL is an ISO 9001 V2015 certified company that innovates on a global scale in the area of vacuum handling using optimized components with integrated, intelligent and reliable features. Its solutions can be adapted to any industrial context and their primary goal is to improve productivity with safety in mind.
COVAL's clients are present in all major industrial fields in which vacuum handling is critical for efficiency and productivity. These fields include packaging, automotive, plastic processing, aeronautics, and palletizing.
COVAL markets its products and services throughout Europe as well as in North and South America through its subsidiaries and its network of authorized distributors.
Facts and Figures
Company
French company founded in 1986
Company size: 100+ employees
2016 revenue: €16.5 million
25 distributors in France and 30 international
5 subsidiaries: China, Germany, Italy, Spain, U.S.A.
Production site and head office: Montélier, France
Products
Vacuum pumps, suction cups, vacuum switches, vacuum grippers, accessories