Cost-Effective "racer" Line Scan Cameras with GigE and Camera Link (PoCL) Interfaces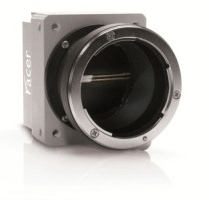 The camera specialist Basler introduces the first models of their new cost-effective line scan camera family racer at VISION Stuttgart 2011. The cameras are very compact, easy to integrate, and deliver an excellent image quality.

Basler racer cameras are available with either a Gigabit Ethernet or a Camera Link interface. They use the latest line scan sensors based on highly sensitive CMOS technology and reach line rates of up to 48 kHz via Gigabit Ethernet and up to 80 kHz with the Camera Link interface.

Basler is starting with 2k and 4k models. Other models with 8k and 12k resolutions will follow in the second half of 2012. With this new series, Basler covers the whole spectrum of standard line scan cameras. Users from many different markets and application areas will find it much easier to choose suitable cameras for their needs.

The Camera Link models are equipped with Power over Camera Link (PoCL) support so that data and power are transported over the same cable. This reduces both the overall costs for accessories and the system complexity. In addition, Mini Camera Link accessories are less expensive than regular Camera Link equipment which allows costs to drop even further, especially in larger systems.

Basler racer cameras have an industrial housing with 56 mm width and 62 mm height. With this compact design, they are an ideal fit for multi-camera designs especially where many line scan cameras are installed side-by-side.