Corona® II LED Line Scan Illuminator
Significantly Improves Performance Potential of Line Scan Cameras with Illumination Strength up to 2,500,000 lux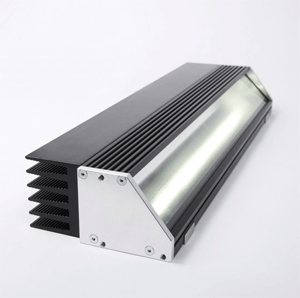 While web inspection requires only a thin line of light to serve as illumination, it is mission critical that the light source be as intense as possible, plus that it features precise light uniformity to avoid chromatic deviations, especially when inspecting such items as color printing, textiles, glass tape or aluminum.
To overcome these challenges, Chromasens GmbH has introduced its next-generation CORONA® II LED line scan illuminator that combines superior homogeneity of light distribution with unprecedented illumination strength up to 2,500,000 lux, allowing line scan cameras to operate at faster speeds. Emitted LED light is focused leveraging the company's patented mirror technology to achieve optimal light shape and spectral homogeneity in the illumination focus range, resulting in no chromatic aberrations.
"When compared to traditional fluorescent, halogen or metal halide, LED is a far superior choice as a light source for web inspections in terms of stability, handling and life span, yet no company has introduced an LED illuminator as advanced as our CORONA II," explained Markus Schnitzlein, Managing Director of Chromasens GmbH. "In fact, it's so advanced that its photometrical properties are eight times greater than our original CORONA I which represented the state-of-the-art in LED at the time of its introduction."
According to Schnitzlein, another advantage of the CORONA II is its modular cooling system that maintains specific color temperatures while decreasing radiated heat onto the product being inspected: "Depending on application requirements and the ambient temperature, the CORONA II's cooling capacity can be adapted by selecting either passive heat sink cooling, active air cooling, or liquid cooling for extreme environments."
Protected in a robust, IP54-rated aluminum housing, the CORONA II is available in standard lengths of 180 mm up to 1360 mm. Standard color choices are White, RGB, IR. UV on request, and there are variety of focusing lengths to accommodate multiple working distances.
In addition, Chromasens offers a matching LED controller, the XLC 4, that serves as a power supply with adjustable current to control modular sections of the line light. To simplify deployment for the system developer, the XLC 4 supports USB, RS232, RS485, Ethernet, and PWM (pulse width modulation) access.