Cooled Bigeye Camera Family Now with AVT GigE Vision Interface
Tha

nks to the new Gigabit Ethernet interface module, low-noise cameras can be operated using the AVT GigE Vision Software Development Kit. Also introducing model Bigeye G-283B Cool with Sony ICX674 sensor.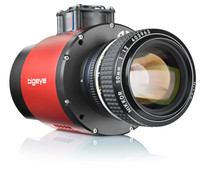 Allied Vision Technologies has overhauled its cooled CCD Bigeye camera series. All monochrome models in the series are getting a new Gigabit Ethernet interface module that provides an additional, expanded I/O interface with 4 inputs and 4 outputs, as well as 2 RS232 interfaces, eliminating the need for a separate I/O card in the PC.

The new Bigeye G models are GigE Vision-compliant, but now they also support software solutions developed by AVT such as the very popular PvAPI SDK, which can be used for the development of proprietary, high-performance imaging. Earlier Bigeye P series models with the Pleora-based interface will continue to be available for existing customers.

New Family Member: Bigeye G-283B Cool
Alongside the new G varieties of existing models, one new member further expands the Bigeye camera family: the Bigeye G-283B Cool is equipped with Sony's ICX674 CCD mono sensor with 2.8 megapixel resolution. This sensor makes its mark with its outstanding quantum efficiency and high dynamic range qualities. The Bigeye G-283B Cool is calibrated for optimum image quality and delivers a maximum of 6 fps at full resolution and 14-bit output.

Cooled CCDs for low-noise and qualitatively high-grade images
All Bigeye G models make use of a Peltier module for active cooling of the sensor which is stabilized, depending upon the model, at a temperature between 0°C and -20°C (32º and -4ºF). In this manner, excellent SNR values are achieved that ensure outstanding image quality, even with longer exposure times. Typical application areas for Bigeye cameras lie in of the life science and other machine vision applications wherever low-noise image acquisition is required; for example, in low-light environments where very long exposure times are necessary. These include applications such as quality control, astronomy, (florescence) microscopy, DNA analysis, or nondestructive analysis of light-sensitive objects.

The new Bigeye G models will be available beginning in September 2012.