Control Design Readers Name Parker Linear Actuators No. 1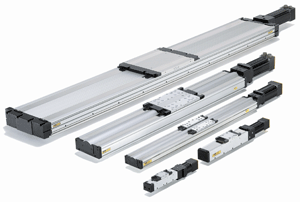 Readers of Control Design, the only industrial automation magazine dedicated to the automation information needs of industrial machine builders, have voted Parker's Electromechanical Automation Division the number-one supplier of linear actuators. The winners were announced today in the magazine's annual Readers' Choice Awards.
Automation supplier companies were chosen by Control Design's machine-builder and system-integrator subscribers who specify, recommend or buy industrial automation and control products; vendors were not eligible to vote.
"In this highly competitive landscape, it's a great honor to be named the best in class by the people who matter the most," says Ben Furnish, linear products manager for Parker's Electromechanical Automation Division. "It's also great to see that the Parker WIN Strategy is paying off with customer satisfaction through high-quality products capable of excellent positioning specifications." Parker's WIN Strategy focuses employees on financial performance, customer service and profitable growth, ensuring the company's continued success.
The division also made a good showing in stepper motors, scoring a second-place position. To see how other Parker groups -- and manufacturers -- fared, check out the complete story on the Control Design Web site.
About Parker Electromechanical Automation
A division of Parker Hannifin Corporation's Automation Group since 1987, Electromechanical Automation is a pioneer, developer and manufacturer of full-spectrum computer-based motion controllers, servo/step motor drives, servo motors and human-machine interfaces, positioning systems, gear heads and gear motors. These products automate the manufacturing of a significant fraction of the world's goods and services.
Electromechanical Automation products are sold via independent authorized Automation Technology Centers – a group of nearly 100 professional, highly trained organizations with more than 135 points-of-presence throughout the world – or buy directly from Electromechanical Automation.
With annual sales exceeding $10 billion, Parker Hannifin is the world's leading diversified manufacturer of motion and control technologies and systems, providing precision-engineered solutions for a wide variety of commercial, mobile, industrial and aerospace markets. The company employs more than 55,000 people in 46 countries around the world. Parker has increased its annual dividends paid to shareholders for 54 consecutive years, among the top five longest-running dividend-increase records in the S&P 500 index.