Continuous-Flex Cables for USB Applications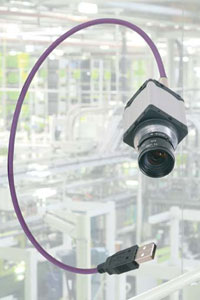 EAST PROVIDENCE, R.I. – May 15, 2008 – igus® Inc. now offers a full line of Chainflex® continuous-flex cables for bus systems, including a cable specifically designed for USB applications. This cable is ideal for industrial environments requiring a USB 2.0 connection and provides fast, reliable data transmissions up to 16.4 feet.
Chainflex USB cables feature a pressure-extruded, flame-retardant, TPE-blend outer jacket for extended service life to millions of cycles. They boast a minimum bend radius of 12.5 times the outer cable diameter and operate within a permissible temperature range of –31 degrees Fahrenheit to +158 degrees Fahrenheit.
With an overall shield for increased EMI protection, Chainflex USB cables are unaffected by high-noise, industrial environments where crosstalk can be a problem. They are also silicon-free according to PV 3.10.7 and are UL AWM, ROHS and CE compliant.
Chainflex USB, like all Chainflex cables, features a construction in which the conductors are bundled rather than layered. The wires are twisted with a special pitch length and the resulting conductors are cabled into bundles. This pioneering construction enables longer cable life even in continuous-flex applications.
Chainflex cables are available in more than 800 sizes and styles. The line ranges from power and control to air hoses, data cables, servo cables and fiber optic cables. Chainflex cables are the ideal partners for Energy Chain® cable carriers. For free samples, contact an igus design technician.
About igus
igus Inc., founded in 1985 and based in East Providence, R.I., develops and manufactures industry-leading plastic cable carriers, continuous-flex cables, plastic bearings and linear guide systems. With more than 28,000 products available from stock, the company meets the motion control and machinery component needs of customers worldwide. Product lines include Energy Chain Systems® to protect and house moving cables, Chainflex continuous-flex cables, iglide® self-lubricating, oil-free, plastic bearings, DryLin® linear guide systems and igubal® spherical bearings. For more information, contact igus at (800) 521-2747 or visit www.igus.com.
igus, Chainflex, Energy Chain, Energy Chain Systems, iglide, DryLin and igubal are registered trademarks of igus Inc.