Construction Kit for Pick and Place Applications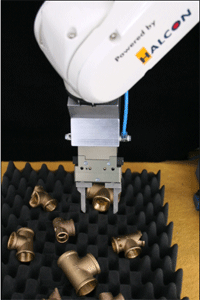 MVTec Software GmbH, Munich (Germany), and Convergent Information Technologies GmbH, Haid (Austria), showcase at AUTOMATICA 2012 a solution for off-the-shelf pick and place applications.
At the MVTec booth at AUTOMATICA, Convergent IT and MVTec present how the standard software for machine vision HALCON 11 and the path planning software AutomAPPPS built a configurable system for robotic pick and place applications. Thereby, the motion planning of an industrial robot takes place in HALCON 11. As a reference, HALCON uses CAD data of the object or especially measured object model data. After this, HALCON delivers data and pose of the object to be picked, as well as of any obstacles. Based on these data, AutomAPPPS plans picking and motion and returns the robot code. The according interface was developed in collaboration between MVTec Software and Convergent IT.
Because the bin-picking procedure is optimized and the motion is planned for absolutely collision free operation, this solution dramatically increases the process stability. Because of the generalization and the high robustness, new applications need only marginal effort for programming. Moreover, the application possibilities are enhanced, because the wide range of 2D and 3D sensors supported by HALCON allows a robust detection of various parts. On the other hand, motion planning enables a safe picking and placing also in very complex working cabins or, e.g., the placing of objects inside of car body. In contrast to planning in a state-space, the robot motion is optimized by kinodynamic motion planning which also considers speed and acceleration of the robot axes. This brings a cycle time benefit.
At AUTOMATICA 2012, a live demo at the MVTec booth shows an industrial robot which recognizes parts in random poses, picks them up and places the parts at a predetermined position.