Configurable Control System PNOZmulti 2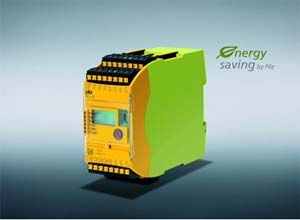 The automation company Pilz uses a seal: "energy saving by Pilz" to distinguish products that are particularly energy-saving. The configurable control system PNOZmulti 2 by Pilz proudly bears this seal, since it consumes up to 80% less energy than comparable products.
Configurable control systems monitor safety functions in many areas of mechanical engineering. Production lines, for example, can use up to 100 control systems. That's why it's worth comparing the energy consumption.
With a power consumption of just 0.8 Watts, the base unit PNOZ mB0 from the configurable control system PNOZmulti 2 is particularly efficient. Thanks to the low power consumption, the unit consumes up to 80% less energy than comparable products. Convert this to CO2 consumption and over 4800 operating hours it means a savings of up to 6.39 kg of carbon dioxide per year for each control system used.
The configurable control systems PNOmulti 2 are suitable for implementing multiple safety functions in plants or machinery - and are just 45mm wide! The system is modular and expandable, so it can grow with your machine as it expands or as its requirements change.
PNOZmulti 2 can be connected to common communication networks. The safety architecture can be created independently of the higher level control system - so you can standardize your safety. The Pilz configurable safety systems PNOZmulti 2 - the worldwide safety standard for all machine types.