Conductivity Measurement with Remote Sensor for Increased Flexibility
v>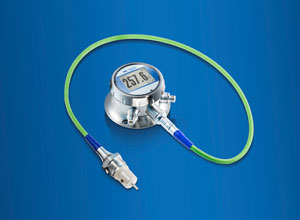 Baumer has added a new model to its range of CombiLyz conductivity meters. In addition to the compact AFI4, the AFI5 version with remote sensor is now also available. This new CombiLyz version includes two individual components: the inductive sensing element and the transmitter with integrated CombiView display. These components can be installed separately from each other and connected via a cable.

Installing the transmitter and inductive sensor separately offers ultimate flexibility in terms of their installation position. Whilst the sensor can be integrated to best effect in the process, the transmitter with an integrated display can be attached in a way that is resistant to vibration. This ensures clear and convenient readability whilst simultaneously extending life time. The transmitter with integrated display CombiView is suitable for wall and tube installation and can therefore be adjusted optimally for any angle. With its resistance for ambient temperatures up to 85°C and reliable, precise measurements even under extreme conditions, the CombiLyz AFI5 has a multitude of uses – especially in limited spaces and for applications with strong vibrations.

Otherwise, the AFI5 has the same reliable technical features as the compact version. With its IP 69 K protection class and entirely stainless steel design, the hygienic version can withstand even the toughest conditions. The CombiLyz can be used for example in CIP and SIP processes, for monitoring concentrations in liquids, or for phase separation of different media. Altogether there are 14 selectable measurement ranges from 500 μS/cm to 1000 mS/cm. This includes the concentration, temperature, current output, switching states and device status in addition to conductivity.

The sensor's measurement results have a maximum deviation of <1 percent. It also boasts an impressively fast response time of less than 0.3 seconds for conductivity measurements and less than 15 seconds for temperature measurements. Furthermore, the background color of the display works like a traffic light system (red/green), depending on whether the measurement results have reached a critical value that requires user intervention. Settings can be changed easily using the touchscreen display even while the process is running.

Company Background
The Baumer Group is an internationally leading manufacturer of sensors, encoders, measuring instruments and automated image-processing components. Baumer combines innovative technology and customer-oriented service with intelligent solutions for factory and process automation and provides a unique range of products and technologies. The family company has around 2,300 employees with manufacturing facilities, sales offices and agents in 37 offices and 19 countries, always close to the customer. With consistently high quality standards worldwide and a huge potential for innovation, Baumer brings their customers critical advantages and measurable added value across many industries.
Company Contact
Martina Mergl
Tel: +41 52 728 17 60