Compact performance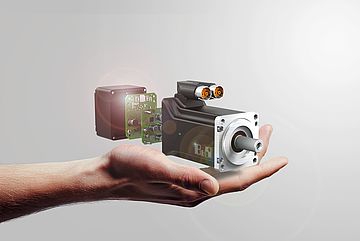 B&R simplifies development of modular machines with compact remote drives
B&R introduces two completely new, particularly compact motor-mounted drives. The two new additions to the ACOPOSmotor series facilitate development of modular plants and machinery. They reduce installation costs and save cabinet space.
The new devices cover a power range up to 0.35 kW, and the smallest version measures just 60 mm x 90 mm (w x h). Despite their compact dimensions, they have a full-fledged integrated servo drive that enables control loops as fast as 50 µs. They are optionally available with an integrated gearbox and brake.
Daisy-chaining
The devices have two connections for hybrid cables, so only a single cable is required to connect to the control cabinet. The hybrid cable transmits both the power supply and POWERLINK communication. Additional ACOPOSmotor units are easily added on via daisy-chain cabling. The unique 300° swivel connections also facilitate easy installation. The time and cost of cabling are reduced significantly.
The new ACOPOSmotor variants have a wide voltage range of 24 to 60 VDC. Thanks to the low voltage, no special training is necessary in order to exchange devices. It is also possible to feed regenerative braking energy back into the DC bus. This can reduce energy consumption by up to 30%.
Integrated safety
The STO safety function comes standard on motor-mounted drives. It is controlled via the hybrid cable, so no extra wiring is necessary. Available encoder variants include: multi-turn, multi-turn with battery and single-turn. ACOPOSmotor is designed for use in harsh environments. It offers IP65 protection and requires neither fans nor heat sinks.