Compact Motor Controller with High Performance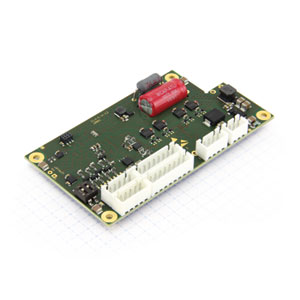 Feldkirchen/Germany – The new CL4-E motor controller from Nanotec is characterized by high performance and its compact design. It is suitable for both brushless DC motors and stepper motors and has a peak power of 1050 W. The rated current of this controller is 6 A, additional heat sinks are not required.
The motion controller can be controlled via CANopen and Modbus RTU or programmed for stand-alone operation and be controlled via digital and analog inputs.
The CL4-E is designed for field-oriented control by encoder, Hall sensors, or sensorless. Due to speed and acceleration feed-forward control, it offers significant improvements over PI controllers in terms of reference behavior and dynamics. Additional safety for the tolerances of 48 V battery packs and power supplies is provided by the 58 V operating voltage. The CL4-E controller is easy to parameterize and program with Nanotec's free Plug&Drive Studio software.
About Nanotec
Nanotec was founded in 1991 and is now among the leading manufacturers of motors and controllers for industrial automation and medical engineering. The company has been based in Feldkirchen near Munich/Germany since 2011. With some 200 employees in Germany, Bulgaria, the USA and China, Nanotec serves customers around the world.