Compact Luminescence Sensors Earn High Marks for Detecting the Invisible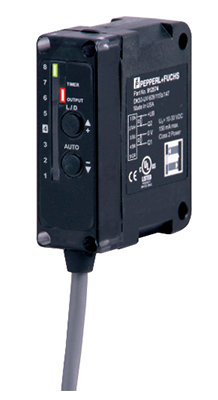 TWINSBURG, OH – DK50-UV Luminescence Sensors from Pepperl+Fuchs provide an easy, reliable way to complete tasks such as error checking, sorting, measuring, and positioning materials that blend into a background or are invisible. They detect fluorescent chalk marks, clear glue, tamper-proof seals and other marks that regular contrast sensors cannot, even on irregular backgrounds, and deliver an industry leading (luminescence sensor) sensing range of 600 mm in a space-saving housing that is 50% smaller than previous generation luminescence sensors. A light spot with a small focal point allows you to detect small parts such o-rings, pin-point leaks, and invisible markings down to 2.2 mm diameter targets. These sensors are UL and cUL listed.
"Because color and contrast sensors do not operate on the visible light that luminescent targets emit, they are unable to detect many luminescent materials," says Tom Corbett, Product Manager. "Another advantage of the DK50-UV is it can differentiate between multiple luminescent targets. For example, the protective luminescent seal over an aspirin bottle can be distinguished from the white luminescent cap."
DK50-UV luminescence sensors have up to four automatic teach modes and one manual teach mode, allowing you to customize the sensor to the application (detecting targets or distinguishing between targets), and to the user (hands-on or hands-off). Additionally, the DK50-UV features a graphical, user-friendly 8-segment LED display. This display indicates luminescent signal strength, uses an output mode toggle for quick adjustments, and comes with an integral timer that allows slower controllers to react to sensor output.
They also deliver the industry's best sensing range for their size. While there are some smaller competitive models, their sensing range is shorter and their functionality is more limited than what you get with the DK50-UV.
DK50-UV luminescence sensors are well suited for use in any number of industries and applications, including packaging, with potential applications that include:
verifying the presence of tamperproof seals
aligning bottle sleeves to labels
sensing labels on cartons
measuring the amount of glue on a carton flap
confirming the presence of a packing slip in a carton
"Another market where the DK50-UV could be used is print and paper, specifically to detect anticounterfeiting invisible marks or marks on mass mailing envelopes. Luminescence sensors could also be used by automotive and tier-one suppliers to determine the amount of thread-locking compound or to measure the amount of grease or oil present on a gasket or bearing," says Corbett.
Additional potential markets of interest include carpet and textiles, lumber, and error proofing, for applications that include:
detecting fluorescent threading stitched in a web of carpet or cloth
identifying lumber grades by chalk markings
checking the integrity of weld seams via a luminescent test liquid
About Pepperl+Fuchs
Pepperl+Fuchs is a world leader in the design, manufacture, and application of high quality factory and process automation products and services. Pepperl+Fuchs pioneered the development of proximity sensors 50 years ago, and has set the standard for innovation and quality ever since.
PR Contact
Julie Eleftheriou
Tel: 952.913.3065