Compact Laser Modules ZM12 with Optic Head Evolution
rong>Compact laser modules ZM12 with optic head evolution – enhanced optic variety and focus mechanism

Freiburg, Germany – The range of small industrial laser modules ZM12 of Z-LASER, a leading manufacturer of laser modules and positioning systems, is designed to be a complete OEM laser solution. The laser modules fit for industrial manufacturing processes such as laser marking or machine vision applications, where superior quality and performance are elementary. The ZM12 product family of small lasers has been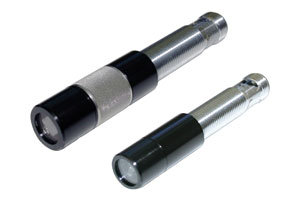 presented at the VISION 2012 show and now supports a wider range of optics. By adding an extra optic head with an optional focus ring mechanism, the user can adjust the laser more easily to its needs.

Due to the excellent price-performance ratio and compact M12 laser thread housing it is an optimal entry-level product for positioning and profiling in machine vision applications and applicable in all kind of industries. With IP67 protection class it is resistant to water and dust.

The basic model with optic head has a length of 85mm and a diameter of 15mm. With the external focus mechanism it is easier to manually change the beam shape. As a laser model with integrated cable (ZM12DM5) the laser is only 63mm long. The laser configuration is available with red and infrared wavelengths, optical output up to 100mW as well as modulation option up to 100kHz. These properties allow an easy synchronisation with a camera system or to setup the laser intensity via PWM (pulse-width modulation).

ZM12 – main features
• 5-30VDC supply voltage with M12 plug or 4-6VDC with wires
• Optical power up to 100mW
• Red and infrared wavelength available (635nm - 850nm)
• TTL Modulation up to 100kHz
• Gaussian/uniform line projections and more optics like multiple lines, circle, dotted line
• Fixed focus or external hand focusing
• Compact M12 thread housing for various installations and mountings

About Z-LASER
Since inception in 1985, Z-LASER is known as a manufacturer of industrial laser systems for manufacturing, machine vision, measurement and medical applications as well as appliance in analysis and science. The team has its own large development department that utilizes our expertise in optoelectronics and laser technology to come up with innovative solutions.