Compact and Dynamic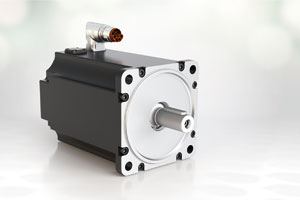 8LS motor series from B&R now even more powerful
Motors from B&R's 8LS series have been completely revamped and are now more powerful than ever. A more compact housing, optimized design and additional sizes are only some of the features that make these motors even more attractive and universal.
B&R has improved the already very powerful and dynamic servo motors from the 8LS series in many details. For example, size 2 and 3 motors with the same technical data are now much more compact, guaranteeing maximum compatibility with a higher power density. Size 5 and 7 motors are available in additional lengths, thereby offering more flexibility in terms of dynamics and torque.
Safety included
8LS motors use new inductive encoders that deliver extremely precise data compared to previous encoders. In combination with the digital EnDat 2.2 interface, the most common safety functions can also be used with hybrid motor cables where the encoder and motor cables are grouped together, reducing wiring effort and costs.
The most commonly used 8LS series motors are also available as preferred motors. For our customers, this means an unbeatable price/performance ratio and reduced delivery times. If necessary, these motors can be ready on short notice and dispatched using express delivery.
B&R Company Profile
As a global leader in industrial automation, B&R combines state-of-the-art technology with advanced engineering to provide customers in virtually every industry with complete solutions for machine and process automation, motion control, HMI and integrated safety technology. With industrial fieldbus communication standards like POWERLINK and openSAFETY as well as the powerful Automation Studio software development environment, B&R is constantly redefining the future of automation engineering.
B&R Industrial Automation, Inc. North America, based in Atlanta, GA, has been working closely with its customers since 1987. Since then, B&R North America has continuously grown as a sales and support organization through both direct sales offices and B&R's unique Automation Partner distribution network. Today, B&R North America has a network of more than 25 offices throughout the USA and Canada and is there for its customers locally.