Color 3D Surface Measurement in Real-Time
Chr

omasens's next generation 3D solution with surface height accuracy in microns, all in real-time. The fusion of high-quality color line scan cameras and state-of-the-art graphic processors.

The 3D-PIXA is ideal for a wide range of 3D surface measurement tasks, including wood, electronics, gaskets, pharmaceuticals, food, tiles, flagstones, leather and much more. The metal industry has been a key area for deployment where metallic surfaces can be measured beyond industry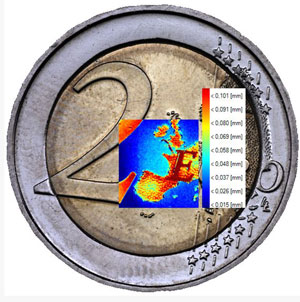 requirements.

3D-PIXA Turbocharged for Industry

The Chromasens 3D-PIXA camera is based on the stereo principle, capturing two images from the same object. The height data is calculated from these two images in real time with advanced pattern matching algorithms running on a GPU. This novel combination of line scan technology and fast 3D stereo algorithms opens up new 3D inspection applications that could not be attempted due to bandwidth limitations. Chromasens has produced the first turbo powered 3D processing engine. Applications include the 100% inspection of components for electronic consumer goods or the verification of color and shape of products in the pharmaceutical and food sectors, with new applications in the surface inspection of automotive parts such as gaskets or bearings. The 3DPIXA stands out from competing technologies when high resolution and accuracy are required. Line scan technology is also ideal for moving objects. The 3DPIXA may be factory calibrated in different configurations, with optical resolutions ranging from 10 to 100 micron and the scan width from 40 mm to 700 mm, respectively.

Chromasens GmbH is your qualified supplier for the challenges you face in industrial image capturing. We design, develop and produce innovative image capturing and image processing systems for maximum performance.