Cognex Vision Systems are Selected by ACSIS to Provide Business Benefits Beyond Serialization Compliance
Enterprise serialization solution utilizes leading edge vision system to supports companies across the pharmaceutical and life science industries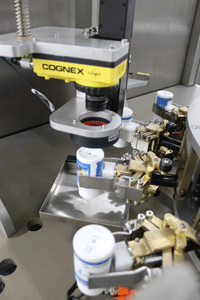 Cognex Corporation announced today that Acsis, Inc. has selected Cognex vision systems as a key component for their serialization solutions. The Acsis system, with Cognex machine vision, will provide pharmaceutical and life science organizations real-time serialization data to support mandate requirements and realize returns on their investment.
As pharmaceutical manufacturers and packagers around the globe shift from batch-level to item-level identification, companies are evaluating their current infrastructure to determine how to streamline processes, create efficiencies and capture real-time business data. Many companies are discovering that by installing vision systems and software they can address compliance requirements and manage returns and recalls more efficiently. Vision technology also allows them to achieve order accuracy while reducing other costly business issues, such as process errors or scrap, simultaneously.
This cooperative technical development between Cognex and Acsis combines the best-of-breed In-Sight® "smart camera" vision system from Cognex for serialization applications with real-time serialization data collection and management software from Acsis. This integrated system will integrate into EPCIS repositories and ERP systems to achieve better visibility of products on the packaging line, in the warehouse and as they move through the supply chain.
"We have been working with Cognex on developing a best-in-breed enterprise serialization solution that takes advantage of their smart camera technology with our integrated line-level and site-level enterprise serialization software," said John DiPalo, CTO at Acsis. "Our partnership allows us to provide highly-reliable complete solutions that support product visibility at the most granular level to address some of the industry's biggest issues."
"Networking Cognex smart camera vision systems provides modular and scalable text verification, label inspection and barcode reading solutions that are easier to install, validate and maintain than traditional PC-based vision systems," said Kris Bierbaum, Manager of Vision Alliances at Cognex. "We are very excited about this cooperative technical development with Acsis and the opportunity to offer pharmaceutical customers world-class, fully integrated product traceability and serialization systems."

About Cognex
Cognex Corporation designs, develops, manufactures and markets machine vision and industrial ID systems, or devices that can "see." Cognex vision and ID systems are used around the world for a wide range of inspection, identification and guidance applications throughout the manufacturing and distribution process. Cognex is the world's leader in the machine vision and industrial ID industries, having shipped more than 800,000 systems, representing over $3 billion in cumulative revenue, since the company's founding in 1981. Headquartered in Natick, Massachusetts, USA, Cognex has regional offices and distributors located throughout North America, Europe, Asia, Japan and Latin America.

About Acsis
Acsis is the market leader for Enterprise Serialization in the Life Sciences, Food & Beverage and Industrial markets. Our Enterprise Serialization Suite is designed to manage the serialization process from the packaging line through the warehouse including global visibility. It's the only suite that delivers compliance with global serialization mandates while reducing the financial impact of counterfeiting and diversion. Protect your brand and unlock the true value of serialization with Acsis.