Cognex to Exhibit Vision Systems and ID Readers at Pack Expo 2012
Cog

nex Corporation (NASDAQ: CGNX), the world's leading supplier of machine vision systems, is pleased to announce that it will demonstrate its latest In-Sight® 7010 vision systems and DataMan® 300 ID readers in Booth S-651 at the upcoming Pack Expo, scheduled to take place October 28-31 at the McCormick Place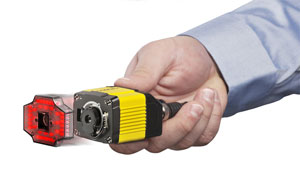 in Chicago, Illinois.

Cognex® DataMan 300 series of fixed-mount ID Readers offer the most advanced technology available for 1-D barcode and 2-D matrix code reading. Available liquid lens optics allows any DataMan 300 reader to be easily upgraded from fixed focus to autofocus. Liquid lens variable autofocus technology is ideal for applications that require a large depth of field or when refocusing is needed after a product changeover.

The DataMan 300 intelligent tuning feature automatically selects the optimum settings for the integrated, bank-controlled lighting and for the autofocus optics for each application to make working distance adjustments as easy a pushing a button. DataMan 300 is available in two models. The DataMan 300 has a resolution of 800x600 pixels and the DataMan 302 has a higher resolution of 1280x1024 pixels. The DataMan 302 is ideal for reading very small DPM codes, often found in applications in the automotive and electronics industries.

DataMan readers use the most advanced code reading algorithms. 1DMax+™ uses patent-pending Hotbars™ technology that can locate and extract code data faster and more accurately than any other system. The 2DMax+™ algorithm provides superior reading performance on damaged and poorly marked 2-D codes on both stationary and high speed lines.

Cognex In-Sight 7010 is an entry level vision system designed to make deploying vision systems easier than ever before. The completely self contained vision system includes autofocus optics and integrated lighting in a compact IP67 rated industrial housing. Applications can be configured very quickly using the intuitive EasyBuilder® user interface, and the its vision library has been simplified to focus on the tools most frequently used in straightforward vision applications. As a result, the In-Sight 7010 can be taken right out of the box and put straight on the production line with minimum time, cost and effort.

Integrated Autofocus
The built-in autofocus capability of the In-Sight 7010 makes it ideal for production situations requiring regular part changes, or applications that require the vision system to be placed in hard-to-reach spaces where manual focus adjustment would be difficult. Simply set and save the focus values associated with the inspection of each part and fine-tune focus levels manually with the interactive software, for seamless part change over without any manual adjustment of the lens. The In-Sight 7010 autofocus system is available with five different lens options to match the working distance and field of view requirements of each application.

Integrated Illumination

The compact In-Sight 7010 features integrated white lighting that is suitable for most vision applications. If a specific color light is required to highlight particular parts or features, four optional colored lights are available. The autofocus optics and integrated lighting developed for the In-Sight 7010 are also being deployed as options across the full In-Sight 7000 product range.

Proven Software Tools

In-Sight 7010 features EasyBuilder and a selection of the key inspection, measurement, alignment and guidance vision tools found on other In-Sight vision systems. With the unique combination of hardware features and software tools, the In-Sight 7010 is the ideal out-of-the-box solution for many straightforward vision applications.

About Cognex
Cognex Corporation designs, develops, manufactures and markets machine vision and industrial ID systems, or devices that can "see." Cognex vision and ID systems are used around the world for a wide range of inspection, identification and guidance applications throughout the manufacturing and distribution process. Cognex is the world's leader in the machine vision and industrial ID industries, having shipped more than 700,000 systems, representing over $3 billion in cumulative revenue, since the company's founding in 1981. Headquartered in Natick, Massachusetts, USA, Cognex has regional offices and distributors located throughout North America, Europe, Asia, Japan and Latin America.