Cognex's DataMan 500 Selected by the 2012 Engineers' Choice Awards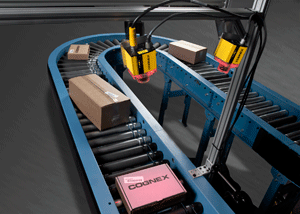 Cognex Corporation (NASDAQ: CGNX) announces that it has been selected for a 2012 Engineers' Choice Award in the category of Machine Vision, Barcode Readers for its DataMan® 500 fixed-mount barcode reader. The award will be presented during a Monday, March 26, 2012 ceremony at the Sofitel Chicago Water Tower hotel.
The DataMan 500 offers consistent, reliable reading of 1-D barcodes that lasers cannot read, including damaged, distorted, blurred, scratched, low height and low contrast codes. It also reads codes presented in any orientation, multiple codes within the same image, and 2-D codes such as Data Matrix and QR codes. With no moving parts to wear out, the DataMan 500 also offers exceptional reliability, lower maintenance and longer product life.
The high-performance DataMan 500 is powered by a proprietary vision chip technology, Cognex VSoC™ (Vision System on a Chip), providing unmatched barcode reading and ease of use not found in other image-based or laser systems available today. Lighting, camera, processor, and communications are all integrated into an exceptionally small industrial housing, making the DataMan fixed-mount readers ideal for the most demanding applications at one reasonable price. Additionally, trigger-free reading and ultra high frame rates eliminate the need for an external trigger, reducing overall setup cost and deployment time.
Control Engineering Engineers' Choice Awards highlight some of the best new control, instrumentation and automation products as chosen by Control Engineering's print and online subscribers. Survey respondents are asked to select products based on technological advancement, service to the industry, and market impact.
For more information about any of Cognex's DataMan 500, visit www.cognex.com.
About Cognex
Cognex Corporation designs, develops, manufactures and markets machine vision sensors and systems, or devices that can "see." Cognex vision sensors and systems are used in factories around the world where they guide, inspect, gauge, identify and assure the quality of a wide range of items during the manufacturing process. Cognex is the world's leader in the machine vision industry, having shipped more than 700,000 machine vision systems, representing over $3 billion in cumulative revenue, since the company's founding in 1981. Headquartered in Natick, Massachusetts, USA, Cognex has regional offices and distributors located throughout North America, Japan, Europe, Asia and Latin America.