Cognex Launches Most Reliable Inline Barcode Verifier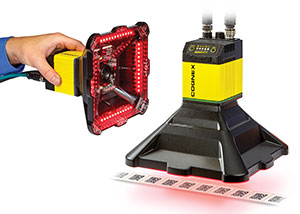 DataMan 475V ensures quality compliance for every code without slowing down production
Cognex Corporation (NASDAQ: CGNX), the leader in industrial machine vision, announces the launch of its DataMan® 475 Inline Barcode Verifier (475V). Providing contract-compliant assurance in adherence with the International Organization for Standardization (ISO), this high-speed system delivers the most reliable code verification and quality reporting for 1D, 2D, and direct part mark (DPM) codes.
"Barcode verification is critical for ensuring high code quality throughout the supply chain, preventing product waste, chargebacks, and loss of customers," said Carl Gerst, Cognex Senior Vice President and Business Unit Manager of Identification Products. "The DataMan 475V automates barcode verification, bringing quality assurance out of the lab and into production."
The DataMan 475V is packed with precision optics, powerful lighting, robust grading algorithms, and a high-resolution camera to capture and grade even the most difficult codes. The system uses DataMan's acclaimed high-speed, multi-core processing engine to ensure ISO compliance—the gold standard of code quality—at production line speeds.
When code quality drops, users can now get immediate feedback to quickly identify printing and process control issues, as well as diagnostic tools needed to correct them. Combined with advanced data delivery capabilities, the DataMan 475V ensures informative, repeatable results for a range of industries including automotive, medical device, consumer products, pharmaceutical, and logistics.

About Cognex Corporation
Cognex Corporation designs, develops, manufactures and markets a wide range of image-based products, all of which use artificial intelligence (AI) techniques that give them the human-like ability to make decisions on what they see. Cognex products include machine vision systems, machine vision sensors and barcode readers that are used in factories and distribution centers around the world where they eliminate production and shipping errors.
Cognex is the world's leader in the machine vision industry, having shipped more than 2 million image-based products, representing over $7 billion in cumulative revenue, since the company's founding in 1981. Headquartered in Natick, Massachusetts, USA, Cognex has offices and distributors located throughout the Americas, Europe and Asia.