Cognex Enters Mobile Terminal Market
Machine vision leader expands its addressable market by $500 million by offering smartphone-based mobile terminals powered by Cognex's advanced barcode reading technology.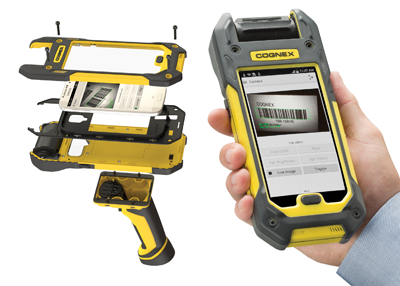 Cognex Corporation (NASDAQ: CGNX), the world's leading supplier of machine vision systems and industrial barcode readers used in factory automation and logistics, today announced that it has developed, and is now offering for sale, a totally new product line…ruggedized mobile terminals.

Cognex's MX-1000 series of mobile terminals offers manufacturers, logistics companies and many other organizations that currently rely on expensive, inflexible and purpose-built mobile terminals, a revolutionary new method for performing tasks such as inventory management, logistics and field service. The MX-1000 combines the ease-of-use, low-cost and flexibility of off-the-shelf smartphones together with a rugged hand-held assembly that holds both the phone and a specially designed Cognex barcode reader that outperforms competitors' laser-based and camera-based systems. Cognex expects that this unique combination will enable it to become a major player in a $500 million segment of the mobile terminal market.

Cognex designed the MX-1000 after detailed discussions with leading companies that use mobile terminals and who were also customers of Cognex's machine vision products and barcode readers. Those customers were dissatisfied with their current mobile terminals which they described as proprietary, expensive, closed systems which are both difficult to build applications on and costly to maintain. They urged Cognex to design a flexible mobile terminal that includes Cognex's field-proven barcode reading technology. Early units of the MX-1000 have been undergoing field testing by a number of Fortune 500 companies, and Cognex is now receiving orders from them.
"The initial versions of our mobile terminal will offer Cognex's superior capability for reading both 1-D and 2-D barcodes, but the hardware in each unit is a complete Cognex vision engine that is capable of far more than just reading barcodes," said Doctor Robert J Shillman, Cognex's founder and Chairman. "I envision that in the near future, customers will ask us to add other valuable vision-based capabilities such as OCR, package dimensioning and inspection."

"Cognex is disrupting the market for mobile terminals by offering customers the power, ease-of-use and low cost of Android® and iOS®-based smartphones together with Cognex's barcode reading technology," said Robert J. Willett, President and C.E.O. of Cognex. "Customers no longer need to choose between ruggedness and flexibility; with the Cognex MX-1000, they'll get the best of both together with industry-leading DataMan® technology for reading barcodes reliably, even under the most difficult conditions."

"This is an innovative approach to augmenting the functionality of today's modern mobile devices. It comes at a time of significant disruption and transition in the mobile terminal market because of the phasing out of existing Microsoft® WindowsCE® and WindowsMobile® 6.x powered handheld terminals as these platforms reach EOL," says David Krebs, Executive VP, Enterprise Mobility & Connected Devices, VDC Research. "With the MX-1000, Cognex is offering its customers a unique option to address industrial class data collection on ubiquitous modern smartphones without sacrificing ruggedness and environmental requirements. Furthermore, the ability to future proof investments is a particularly unique and important differentiator."

Watch this brief video for analysis on the latest trends in the ruggedized mobile terminal market.

About Cognex Corporation
Cognex Corporation designs, develops, manufactures and markets a range of products that incorporate sophisticated machine vision technology that gives them the ability to "see." Cognex products include barcode readers, machine vision sensors and machine vision systems that are used in factories, warehouses and distribution centers around the world to guide, gauge, inspect, identify and assure the quality of items during the manufacturing and distribution process. Cognex is the world's leader in the machine vision industry, having shipped more than 1 million vision-based products, representing over $4 billion in cumulative revenue, since the company's founding in 1981. Headquartered in Natick, Massachusetts, USA, Cognex has regional offices and distributors located throughout the Americas, Europe and Asia.

Certain statements made in this news release, which do not relate solely to historical matters, are forward-looking statements. These statements can be identified by use of the words "expects," "anticipates," "estimates," "believes," "projects," "intends," "plans," "will," "may," "shall," "could," "should," and similar words and other statements of a similar sense. These forward-looking statements, which include statements regarding business and market trends, future financial performance, customer order rates, expected areas of growth, research and development activities, new product initiatives, future stock repurchases, investments, and strategic plans, involve known and unknown risks and uncertainties that could cause actual results to differ materially from those projected. Such risks and uncertainties include: (1) the loss of a large customer; (2) current and future conditions in the global economy; (3) the reliance on revenue from the consumer electronics or automotive industries; (4) the inability to penetrate new markets; (5) the inability to achieve significant international revenue; (6) fluctuations in foreign currency exchange rates and the use of derivative instruments; (7) information security breaches or business system disruptions; (8) the inability to attract and retain skilled employees; (9) the reliance upon key suppliers to manufacture and deliver critical components for our products; (10) the failure to effectively manage product transitions or accurately forecast customer demand; (11) the inability to design and manufacture high-quality products; (12) the technological obsolescence of current products and the inability to develop new products; (13) the failure to properly manage the distribution of products and services; (14) the inability to protect our proprietary technology and intellectual property; (15) our involvement in time-consuming and costly litigation; (16) the impact of competitive pressures; (17) the challenges in integrating and achieving expected results from acquired businesses; (18) potential impairment charges with respect to our investments or for acquired intangible assets or goodwill; (19) exposure to additional tax liabilities; and (20) the other risks detailed in Cognex reports filed with the SEC, including its Form 10-K for the fiscal year ended December 31, 2015. You should not place undue reliance upon any such forward-looking statements, which speak only as of the date made. Cognex disclaims any obligation to update forward-looking statements after the date of such statements.