Cognex Directory Server (CDS) Software Version 1.0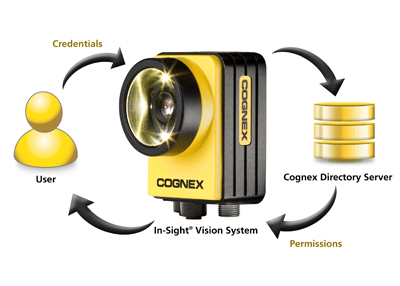 Cognex Corporation (NASDAQ: CGNX), announced the release of Cognex Directory Server (CDS) software version 1.0 for use with its industry-leading line of In-Sight® vision systems. Cognex Directory Server centralizes authorization and authentication control for all users, network-wide, as part of the overall enterprise information security architecture. With the addition of CDS, Cognex offers the most complete software suite available for managing the security of machine vision systems.
"Network security is a critical topic in the factory automation industry as more plants leverage the flexibility and openness of Ethernet for their core manufacturing backbone. Ethernet-enabled control systems allow for seamless integration into ERP (Enterprise Resource Planning) systems and MES (Manufacturing Execution Systems). With this comes a need for increased security measures to protect mission-critical data and operational parameters," said Herb Lade, Vice President and Business Unit Manager.

The Cognex Directory Server leverages industry-standard IT infrastructure and protocols such as LDAP, SSL and HTTPS for state-of-the-art network security. When a user attempts to log into an In-Sight camera, credentials are passed to CDS for authentication and user-specific permissions are transferred back to the camera. CDS can customize access permissions for each user, which helps to ensure the integrity of the vision system setup as well as production quality and safety. Access can be customized by job parameters, In-Sight camera settings, In-Sight Explorer maintenance functions and more. CDS complements existing products such as the Cognex Audit Message Server, which logs system parameter changes and user logins, and the TestRun™ tool, which validates changes to application parameters.

Enterprise customers can utilize the Cognex Directory Server software to help protect sensitive information and to comply with industry regulations, such as 21 CFR Part 11 compliance for validation. Many customers can also use CDS to manage large numbers of In-Sight vision systems across the factory, reducing setup and maintenance costs.

For more information about the advanced capabilities of Cognex Directory Server, visit www.cognex.com/cds.
About Cognex
Cognex Corporation designs, develops, manufactures and markets machine vision and industrial ID systems, or devices that can "see." Cognex vision and ID systems are used around the world for a wide range of inspection, identification and guidance applications throughout the manufacturing and distribution process. Cognex is the world's leader in the machine vision and industrial ID industries, having shipped more than 850,000 systems, representing over $3 billion in cumulative revenue, since the company's founding in 1981. Headquartered in Natick, Massachusetts, USA, Cognex has regional offices and distributors located throughout North America, Europe, Asia, Japan and Latin America.