CoaXPress for Defense and Surveillance
CoaXPress outdoor cameras are available with characteristics that meet the most demanding applications in defense and high-end surveillance.
---
Defense and high-end surveillance are perfect applications for CoaXPress. Numerous vision systems can now use faster, higher-resolution and higher-fidelity digital imaging technologies. CoaXPress is a powerful digital video communication standard providing a high speed interface between a camera and a frame grabber. In its simplest form, CoaXPress uses a single coaxial cable to transmit data at up to 625 MB/s, simultaneously transmitting control data and triggers and providing up to 13W of power to the camera. When higher data transmission rates are required, four parallel cables can be used to provide rates up to 2,500 MB/s. This new standard is now widely accepted on the market and the number of products based upon it has grown significantly.
---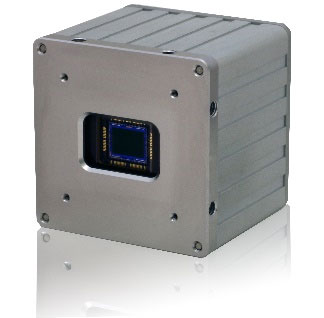 Bandwidth and signal latency
High-speed cameras can shoot at 560 frames per second in real-time with a resolution of 4 Mpixels, to take images in a burst.
At the other edge of the camera range, ultra high definition camera sensors can reach resolutions of 26 Mpixels at 80 frames per second, to look for a needle in a haystack.
Other aspects such as signal latency, are critical for defense applications. CoaXPress HD video is not compressed and makes transfer with zero latency possible. CoaXPress devices allow real time triggering at high frequency and adjustment of the exposure time to low light situations.
Cable length and cost are other differentiators.
CoaXPress cameras are using the same heavy duty cables as analog PAL-NTSC and HD-SDI cameras. Coaxial cables are the best solution for the high speed transmission of data as they afford a higher frequency spectrum than twisted-pair. Coaxial cables are affordable, easy to use and can be terminated manually in the field. The thick copper wire inside coaxial cables is protected from electromagnetic interferences by a Faraday cage.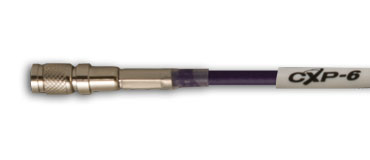 Coaxlink cables perform in the harshest environments and are able to withstand shocks and vibrations. In addition, CoaXPress recently introduced the use of a screw-on coupling DIN 1.0/2.3 connector, which will ensure additional robustness.
The CoaXPress standard allows higher cable lengths compared to other standards, such as Camera Link or USB. Cable lengths greater than 100 meters may be achieved at half speed and greater than 40 meters at full speed. Twisted pairs used in other standards suffer from intra-pair skew that really put a limit to the maximum cable length.
Another benefit is the possibility to use high resolution digital cameras instead of common analog cameras while keeping the same cable technology. The transition is painless as installation and maintenance procedures remain unchanged.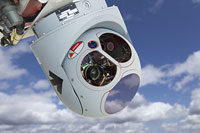 One single cable for all functions
As CoaXPress cameras only require a single coaxial cable for all functions (video downlink, power and control uplink), they can be integrated into 360° rotating stations with slip rings to allow continuous panning.
CoaXPress is hence the best choice for gun turrets or rotating cameras. If Camera Link, USB or GigE are valid options for defense applications, the intricate/complicated cables with multiple conductors that they require imposes the use of complex and expensive slip-rings.
New possibilities ahead
The field of photonics-based sensors capabilities is rapidly expanding and offers new possibilities for the development and deployment of new technologies on the defense and surveillance markets. The next revision of the CoaXPress standard will specify two additional data rates that will allow to double the maximum bandwidth to 1,250 MB/s per cable, putting the next generation high resolution and high frame rate cameras within reach or reducing the number of connections and cables required per camera, as well as the total cost of the system.