CoaXpress 2.0 | When CoaXPress comes with 12.5 Gbit/s (CXP12)
Since it has been approved as an official standard in 2011, CoaXPress (abbreviated CXP) has gained a significant status in the machine vision ecosystem. Numerous compliant products (cameras, cables, frame grabbers, converters, repeaters…) are now available and adopted by machine makers and system integrators worldwide.
Moving forward, the CoaXPress workgroup is currently working on the next significant evolution of the standard, CoaXPress 2.0.
COAXPRESS 2.0
The main factor driving the adoption of CoaXPress in the vision inspection machine market is the bandwidth that it provides, putting the next generation high resolution and high frame rate cameras within reach.
A major feature of the next revision of the standard, CoaXPress 2.0, is the increase of the maximum connection bit rate to 12.5 Gbps. Currently, the maximum data rate over a single connection is 6.25 Gbps (CXP-6). The next revision of the standard will specify two additional data rates, CXP-10 (at 10 Gbps) and CXP-12 (at 12.5 Gbps).
The target of this evolution is twofold:
Increase the maximum bandwidth available. With four cables and CXP-12 connections, the maximum data transfer rate will be 50 Gbps, or 5 GByte/s. For example, this is sufficient to operate a 10-bit 12-megapixel area-scan sensor at more than three hundred images per second, or an 8-bit 16k line-scan sensor at 300 thousand lines/s.
Cost reduction. Most of the CoaXPress cameras available today need two or four connections. Increasing the connection bandwidth will reduce the number of connections (and frame grabbers) and cables required per camera, as well as the total cost of the system.
"Going towards CXP-12 is an exciting challenge," says Jean-Michel Wintgens, Euresys VP Engineering. "On one side this allows to simplify the connection with less cables (1 single CXP-12 connection instead of 2xCXP-6), and on the other side it allows supporting higher frame rate and higher resolution cameras (8xCXP-6 cameras are available today, and the camera makers look for CXP-12 to meet the market requirements)."
TWO ROADS TO CXP 12, MORE POSSIBILITIES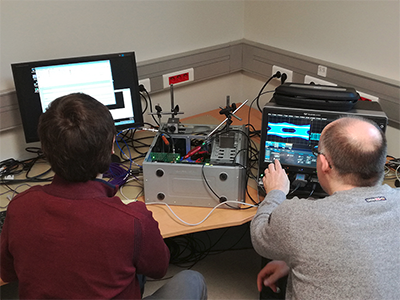 The formulation of the CoaXPress 2.0 standard is nearly completed and the final draft is targeted to be ready in the first quarter of 2017, such that the release candidate can be finalized during the spring international vision standards meeting. The first certified products can then be expected approximately at the end of 2017. With a solid standardization roadmap and industry support for CoaXPress, this is encouraging even more component suppliers to create products.
Euresys has been working on new frame grabbers, using and comparing two kinds of components. So far, both options are successful and this will bring more flexibility when it comes to product design.
"Having multiple sources for implementing the CXP technology is a key element to push the standard forward, reduce the risk, increase the quality and drive the price down" says Jean-Michel Wintgens, Euresys VP Engineering.
In one hand, Euresys is working with Microchip chipset and was able to demonstrate a CoaXPress 10 Gbps frame grabber at Vision Show Stuttgart 2016, in collaboration with Adimec who provided a 10 Gbps CXP prototype camera.
"As a founding company of the CoaXPress standard, Microchip is committed to very high speed transmission over coaxial cable and the only provider who can support all CXP speeds from 1.25Gbps up to 12.5Gbps in the same chip with no redesign necessary", says Zeph Freeman, Global Marketing Manager from Microchip Technology, Inc. (www.microchip.com)
Adimec is one of the pioneers of the CoaXPress standard, and the first supplier to offer production-ready CoaXPress-certified products.
In another hand, Euresys is experimenting with similar development using MACOM Technology Solutions Inc. ("MACOM") components.
"In 2014, MACOM introduced the first chipset that enabled 4K Broadcast Video over a single coaxial cable at 12Gbps. By leveraging this technology, MACOM has committed to advancing the next generation CoaXPress interface to further push the capabilities of the Machine Vision Industry.", stated Mike Fukatsu, Director of Product Marketing from MACOM.
As a member of the AIA, EMVA and JIIA, and an active member of the CoaXPress workgroup, Euresys is actively taking part in the development of CoaXPress 2.0. "Our CoaXPress cards, the Coaxlink series, is our fastest growing product range" says Marc Damhaut, CEO of Euresys. "Euresys is committed to the CoaXPress standard and we will strive to maintain our position as a leader of CoaXPress".